Last Updated on
Star Wars Week Madness Is Here
BOOM!
This is the week to end all weeks, because Star Wars Week Madness Is Here! There is no week like the premiere of a new Star Wars movie. None. Nothing is like it. Everything and everybody is hitting Star Wars up on all fronts. Time. People. Heck, Business Week… everyone is talking Star Wars this week. The premiere was last night and word on the street is that there is cause for celebration… it really is a great movie.
I obviously haven't seen it yet – because no one thought to invite me to the premiere. I'm sure that was a huge oversight. One that Disney and Lucas Film will fix here soon. But I have tickets to the 1:30 am IMAX 3D showing this Thursday night. I will be spending all day in line… (sorry boss – obligations) in order to get half decent seats for me and my friends. (And it must be said, that I'm almost certain that they are all joining me at 1:30 am – when all normal people are sleeping – out of sheer obligation to me for buying them a ticket when no one else could get them. But I'm ok with that. I'm not above bribing people to be my friend. You interested? I might still have a ticket or two you… jump in. If you can be bought?! Great! The more the merrier.
But I'll be really honest with you… the movies are fun. They are a blast, and I love them. But there is nothing like hanging out with Star Wars fans for a day or two. Counting – so far, I've spent almost a week in line getting tickets and getting seats for Star Wars movies. Sure, I'm not as insane as some folks who spent a week THIS WEEK waiting in line. But man, it's a blast soaking in the hype, being interviewed by radio stations.
There is something to be said about doing something to the extreme. Just going too far. By going over the top it creates memories and laughter with everyone you share it with. Seriously. Do it sometime. Next time you go get a hair cut? Spend a week waiting in line for it instead. By the time you actually get said haircut… DAMN, it's going to be the time of your life! hahaha.
Ok, but seriously – this week is Star Wars week – and daggon if there isn't a ton of interesting Star Wars going on everywhere. The first one is Spotify-Starwars.com. Curious which Star Wars character your music listening habits makes you? Are you an Ewok? Or C3-PO? Maybe you are Princess Leia? It's really fast, basically login, it evaluates your listening habits and voila… you know.
Interested to find out what my listening habits resulted in? Hahah. Oh I knew who I was going to be. I figured I was for sure Darth Vader. Guaranteed. But I was wrong. Here – listen to my current favorite song, and tell me who you think I turned out to be.
[soundcloud url="https://api.soundcloud.com/tracks/185880533″ params="auto_play=false&hide_related=false&show_comments=true&show_user=true&show_reposts=false&visual=true" width="100%" height="450″ iframe="true" /]
Scroll to the bottom to find out if your guess was right… ok – enough Spotify. What else? Oh, yes, the latest Google Chrome experiment is a thing of beauty. Can be a little bit tricky to make it work at first (especially if you are at work – cough – cough) which is where I was when I first heard about it. I MEAN NO I WASN'T. I WAS DILIGENTLY SLAVING AWAY… HELPING THE CHILDREN OF THE WORLD!! Or something. Anyway. Once I went home it worked fine. Basically you point your laptop at g.co/lightsaber – and then you point your phone's chrome browser at g.co/lightsaber – and away you go. I work in this industry and I have no idea how the make this little experiment work. None. (Ok, I could guess, but then it wouldn't be by the FORCE, which means it's a lame answer.)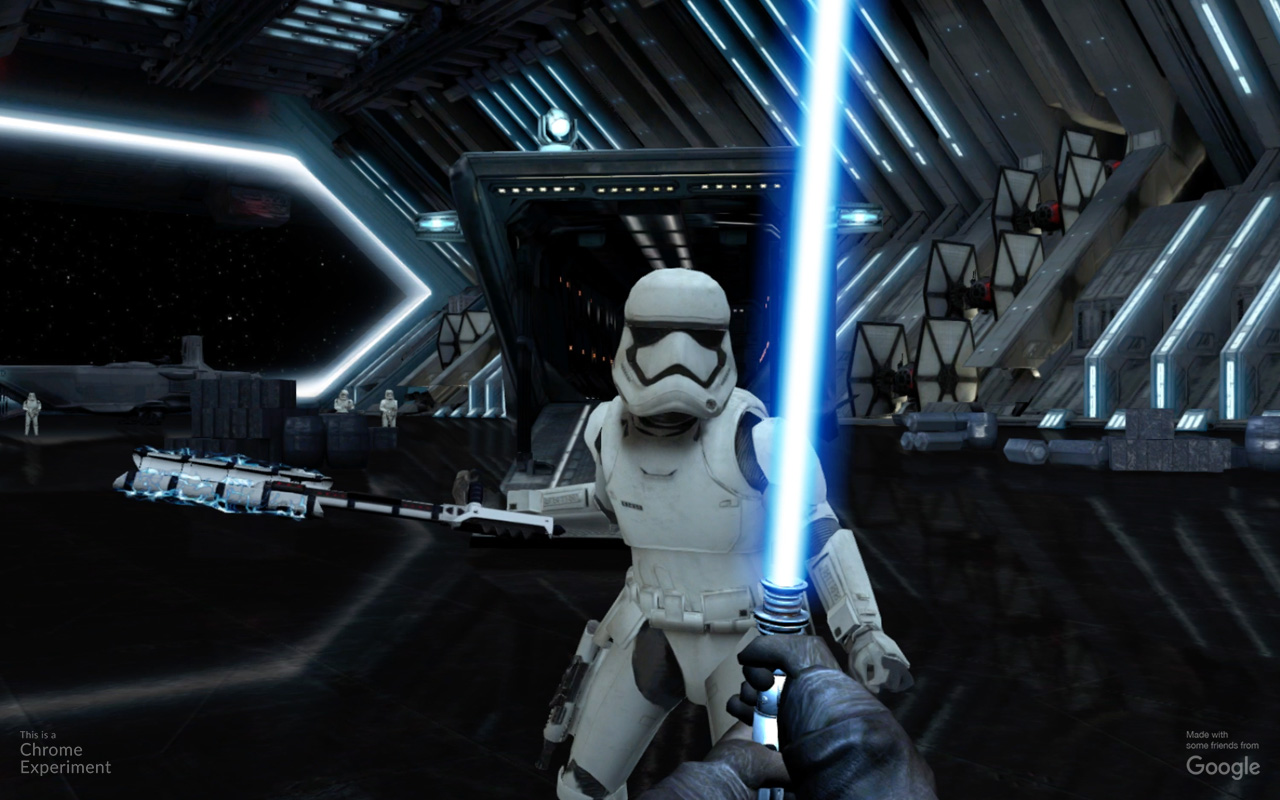 Basically you use your phone as a lightsaber and kill inbound storm troopers from your phone connected up to your browser. It's a wicked brilliant play that has to have been years in the making.
(And while I'm here, let's talk some trash about the new up and coming Star Trek movie on the way. You did see that the new trailer has dropped, right? And it's singularly awful. Just truly terrible. But that's just coming from a died in the wool Star Wars fan. But I will come out on the record and say that it will be the worst performing Star Trek movie ever. Trust me. By bailing on the J.J. Abrams Star Wars-esque direction of the near-past, and heading deeper into its roots, I promise you, promise you… it'll flop. Wait? Don't believe me? Here is that awful Star Trek trailer for you to verify for yourself.
See? Just terrible awful.
Alright – enough bloviating about my childhood memories and what not. Who'd I turn out as?!? You guessed it – the only character darker and scarier than Darth Vader. The Emporer! hahaha. Come on, after listening to that song you get it. My tastes in music run pretty dark. And that song I shared was one of the more upbeat! hahah.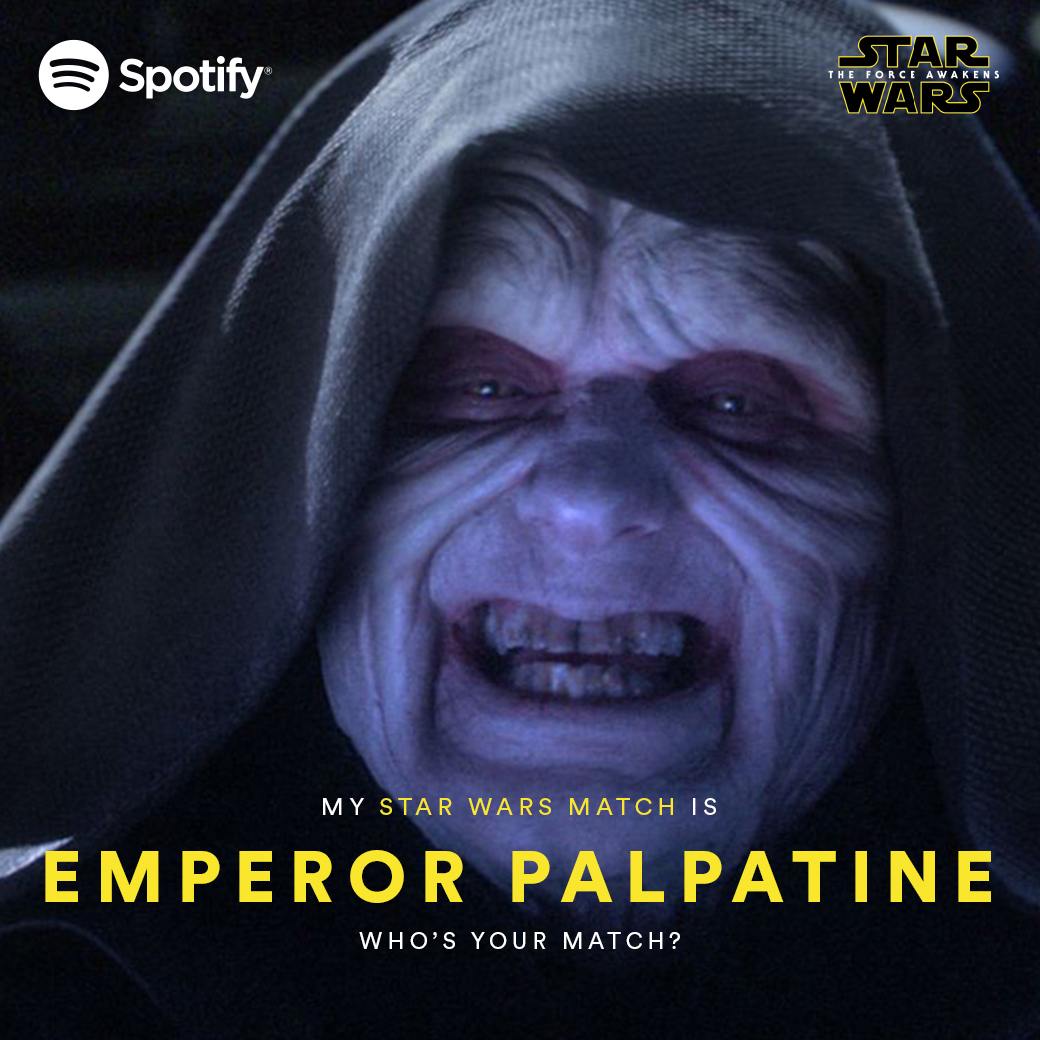 Final thought on the week of Star Wars… It's widely believed that J.J. Abrams needs a 1.5 billion dollar take at the box office in order to be a success. 1.5 billion? Even in adjusted dollars none of the other movies have made 1.5. None. Even after hitting the big screen 4 or 5 (nope, 7 times?!?) A New Hope is sitting at 786 million adjusted. And yet, projections on this movie are just beyond through the roof. Some are estimating it will make upwards of 2.5 billion in global box office ticket sales. It has already broken ever pre-order ticket sales record on the books. (Oh I know, it was nigh on impossible to get tickets out of those crushed and squealing servers.)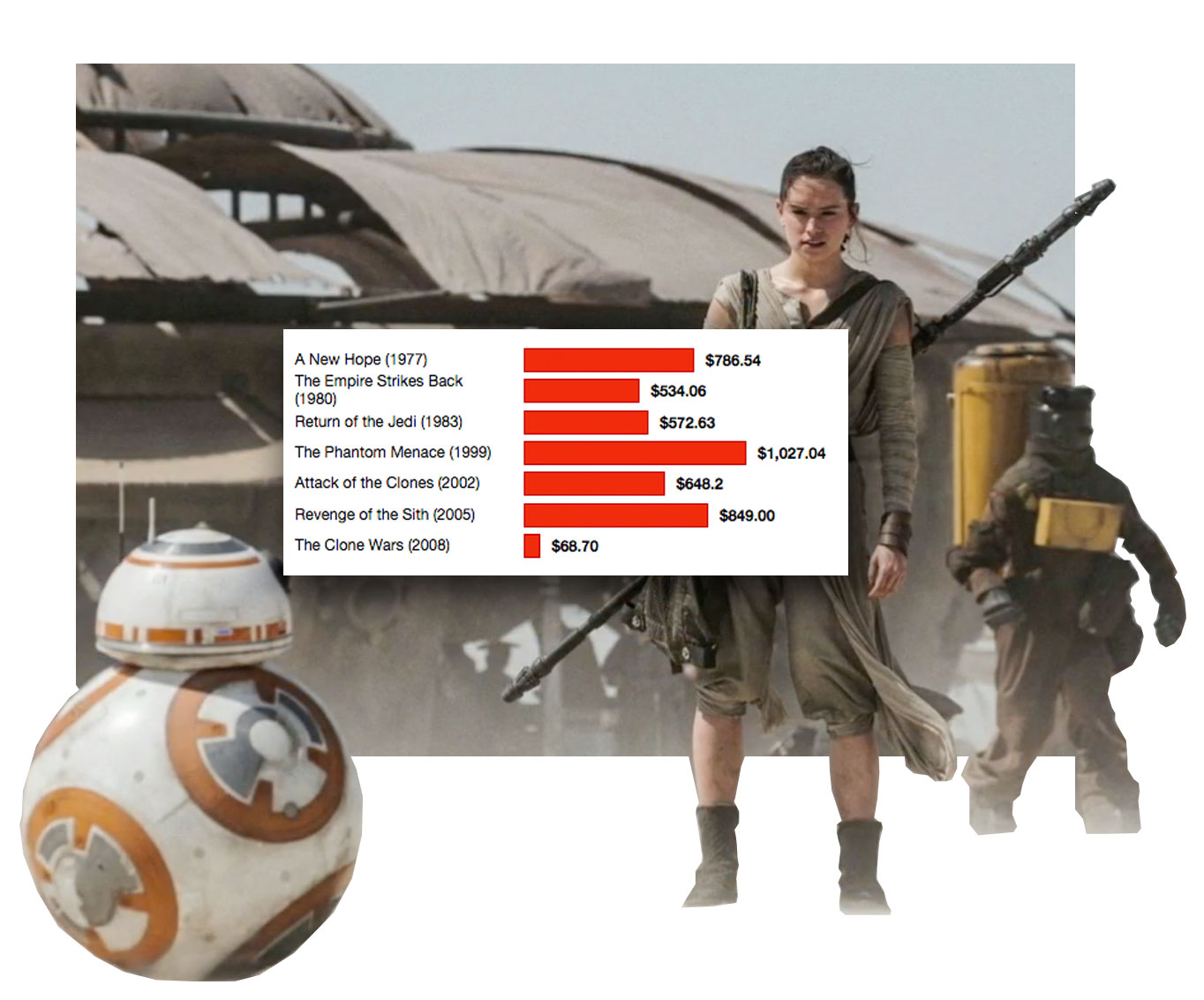 The Hollywood Reporter has predicted that "Star Wars: The Force Awakens" will take in $170M to $240M in its opening weekend.  I am going to go on record and say that it makes it to $2.45 billion. And, not only that, but I'm also going to go on record and predict Star Wars, The Force Awakens will beat out Jurassic World's opening weekend record with $225 million in sales. 2.45 total take will be less than Avatar… but more than Titanic. But really? Just an enormous sum of money at the end of the day. But let's put this movie box office in perspective. It is expected that Disney will make over 5 billion in merchandising on Star Wars alone for the year. 5 billion. That number alone covers the $4billion investment in purchasing the franchise. It basically proves to me that Lucas was fed up. He was done with the franchise. And he didn't care if he made another red cent. He just cut and ran. So Disney will do fine whether the movie flops or not. But yeah, Spielberg is right – J.J. definitely needs to hit over the 1.5 number or else the rest of the franchise will teeter.
Well, may the force be with you all. And let your inner geek loose for a week. Don't worry, us geeks won't judge you beautiful people too badly for wanting to be us this week. It's alright. Jump in… the water's warm.