A Year End Interview With Myself
Man I hate these posts. But at the same time – you never know if you are progressing or learning or anything, unless you mark the passage of time. My goal here, every day, is to get better at this writing thing. To get better at doing posts that matter. To do posts that ponder and grapple with the meaning of life the universe and everything. To get to know other human beings. To learn where I am weak or (similarly) too proud. To become a better person by rubbing shoulders with the likes of you.
One thing that decidedly DID NOT happen this year, that I'd like to happen next year, is that I would like to know who you are a lot better. There are so many people that randomly read here, and come back again and again… and I don't know who you are. In some areas of this blog I interact with you day in and day out via the comments. (think this, or this, or this.) But most of my posts aren't that, they're this. Or this. I look forward to the days when I find fantastic new movies and review and explain them. Because that is the backbone of this blog. But I also just do general pontification pieces and have no idea who are reading them because I don't get feedback. (Well, the other day, I did have someone give me my first "tip" and buy me a beer. That was gratifying. Thank you – you know who you are.) But I've always wanted to just interview folks like you. Just find out who you are – and what you do. Ask a few detailed questions about what you tick and why you do the things you do. Or questions about the experiences of your life. So, if you are interested in volunteering for something like that – please give me a yell over at taylor at taylorholmes.com and I'd be HAPPY to delve into you and your life. I'd even do it anonymously if you'd like. (Though that takes much of the fun out of it!)
So anyway, where were we? Oh yes. The year in review post. Here are some interesting stats from what you guys did this year on the blog.
Top Read Posts this year: 
130k views – Signal Reviewed and Explained
72k views – Memento Explained
64k views – The One I Love
38k views – Z for Zachariah
29k views – Best Dialogue Movies
26k views – Clouds of Sils Maria
21k views – Time Lapse
18k views – The Prestige
16k views – Coherence
15k views – The Home Page
This past year I did something like 40 or 50 different interview pieces? They were the pieces I worked the hardest on, and put the most into. And yet, only about 20 to 30% of the traffic funneled that direction.  Here are the top 10 interviews this past year by readership:
About a year and a half ago I wanted to do an Search Engine Optimization test to see what would happen if I started posting more often. And voila… the site took off from a traffic standpoint. It began growing by 20 to 30% a month. Which is really not very sustainable. haha. But after a year of, more or less, posting every day (ok, frequently. I post frequently if not every day) this past year has shown the results.  This graph shows the patterns of the posts throughout the year. Basically shows what a slacker I became as the year progressed! hahah.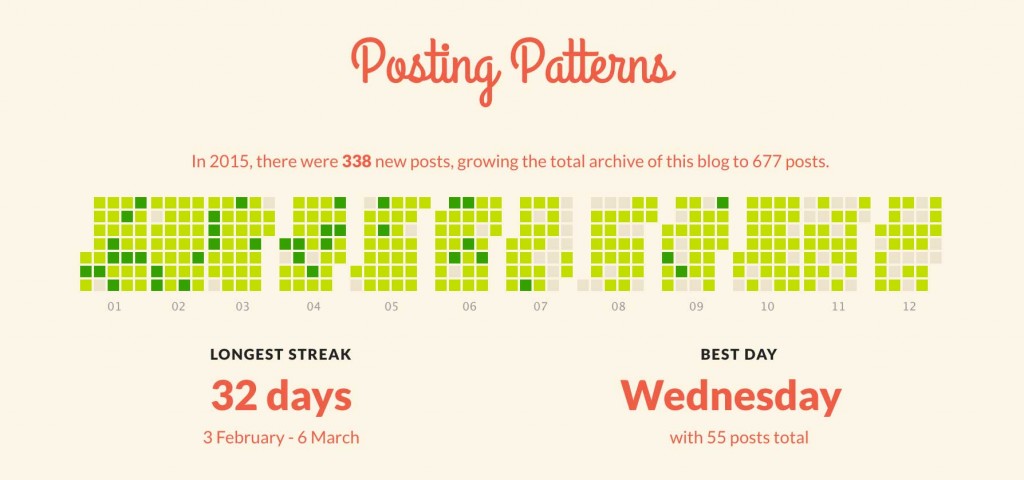 Comparing year over year growth, the site's traffic has jumped 250% with over 700,000 visitors. Obviously, it really isn't all about numbers. But it's difficult to track much else. More importantly, you guys posted over 980 comments? It's really hard to count them up. But that is why, I have sucked, at responding to you all. I try my best… but not only were there 980 different comments, but you totaled 432,000 words of comments across all 980 of those comments. Which means you averaged 440 words per comment? Hahah. That is not an insignificant word count right there for a comment on a blog. And some of them were longer than my original post! hahah. I personally see that as more of a success than the actual number of visitors. I'd rather fewer ENGAGEd people visit the site than more disengaged readers visited. If that makes any sense.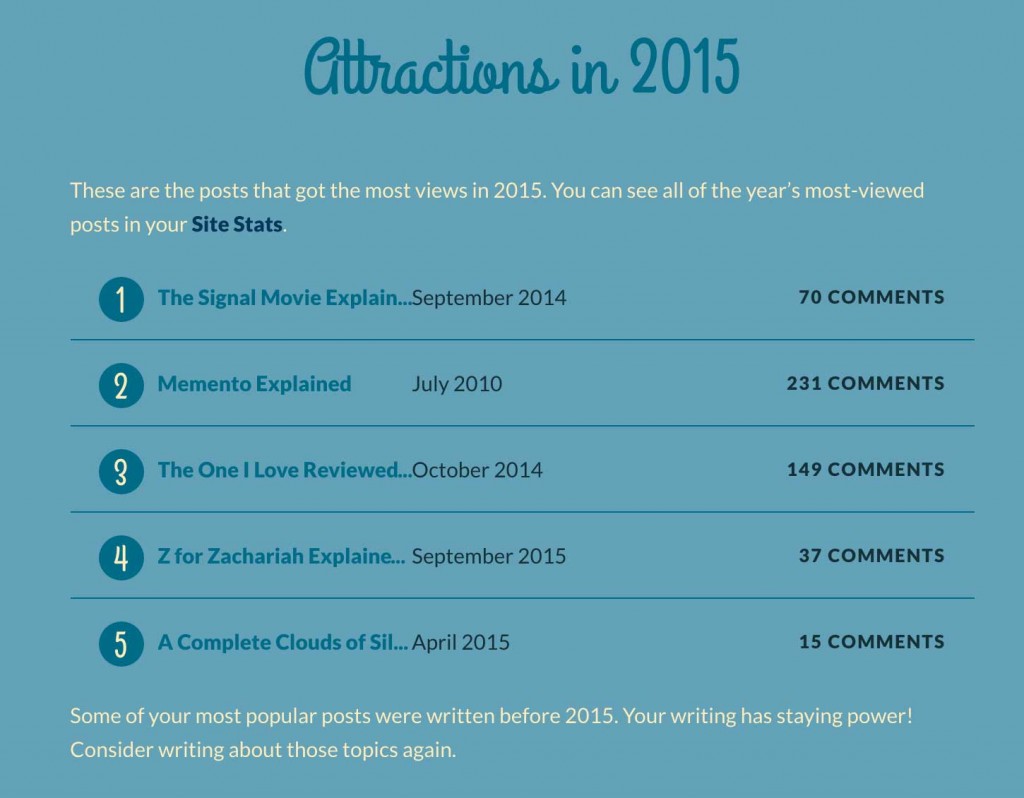 I also made like a hundred bucks in advertising… and quickly decided it wasn't worth it. And that was why I posted the "Buy Taylor a Beer" button. Which a resounding 1 of you availed yourselves of! hahha. But it's fun. I love trying new things and experimenting with what makes you tick.
All in all it was a fun year. I met a ton of great new friends. I learned even more. And I enjoyed myself so much I figured, heck, why don't we do it again next year? I'll probably be slowing down on some of the shorter posts that I have been doing the last year. I'll still post fairly regularly, but I don't think you guys care too much about the random pieces. More movie pieces, more interviews, more long bloviating rambles about life. But most of all, I hope to see you again in the new year. It wouldn't be the same without you swinging through occasionally.