Last Updated on
Ken Burns and Trent Reznor Partner on Vietnam Biopic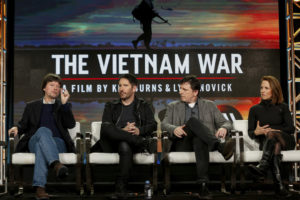 Because you didn't catch the greatness of that title… I'll repeat it. Ken Burns and Trent Reznor Partner on Vietnam Biopic. You have Ken Burns, creator of The Civil War documentary. One of the greatest pieces of film of all time. The War, Lewis & Clark, The Civil War, The Statue of Liberty, etc etc and on and on. And apparently, Trent Reznor and Atticus Ross have joined in on Reznor's 12 hour project with 2 new hours of musical greatness. The rest of 10 hours of music will come from re-jigged bits from other Nails songs, The Social Network, and The Girl With the Dragon Tattoo to pull it all together. That plus some Yo-Yo Ma (and you thought this collaboration couldn't get any better), The Beatles, The Stones, Dylan and others.
As a young teenager I probably read over 100 books on the Vietnam war. No. Not those pamphlets that you are thinking of. I'm talking about War and Peace type scale books. I recently handed a book of this type of grandeur to my brother-in-law about the World War II engagements in the Pacific, and 2 years later he conquered it. And know, this was 10 years ago? And this fall he told me it was the single biggest, most complicated book he'd ever read. I am not sure why I loved reading about the politics of the Viet Cong. The marine struggles in the trenches, leaches, the snakes. I read biography after biography of helicopter pilots. But I really enjoyed every detail I could get my hands on about all of the tunnel monkeys as they limped through the mine infested tunnels that sprawl throughout the entire nation.
It is the war that shattered our nation. I had uncles that came back and went sideways as a result of their time bodybagging their friends. They came back and were never the same, and died too early as a result. We believe that we are divided today? Nah, division is either the Civil War, or the Vietnam War, or conflict, whatever.
And now, to find out that master of the documentary is going to be doing a series on the Vietnam War? With backup soundtrack by Trent Reznor? And Atticus? The wunderkinds behind The Social Network (possibly the greatest soundtrack of all time. Name a better one. I defy you to name me a better one. And don't say Star Wars, for the love of all.) Such fantastically good news. So good. The only bad part about it? (And this is me being an ungrateful letch) The series isn't going to be available until September 2017!? Gah. Nine (appropriate) months. I can make it. I can make it.
Woot! Ken Burns is doing a series on the Vietnam War! And Trent and Atticus are scoring it! So brilliant.