Handicapping the 2018 Oscars
No foreplay – let's do this – no one reads these anyway, but boy are they fun to mess around with and just to talk through. Can you tell I'm a movie guy? Gah. I need to find a different hobby. Here's my list that'll be glued to the night of the Oscars: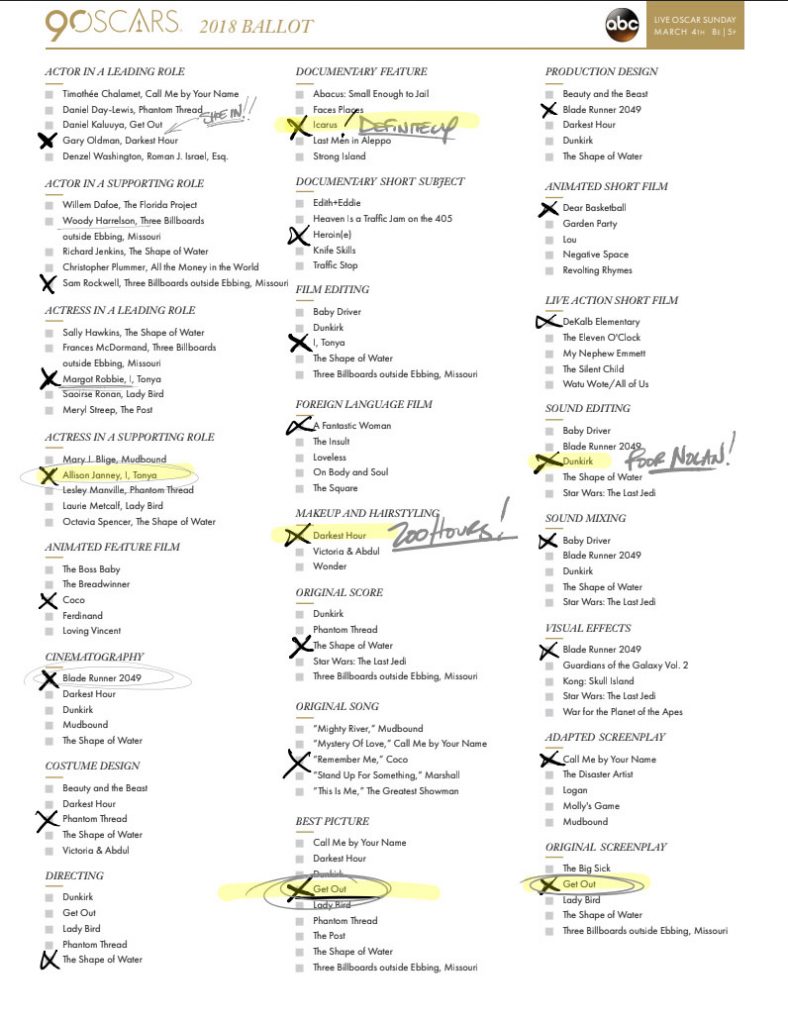 Alright – let's talk about some of these picks and see where they are going to go…
BEST PICTURE nominees:
Call Me by Your Name
Darkest Hour
Dunkirk
Get Out
Lady Bird
Phantom Thread
The Post
The Shape of Water
Three Billboards Outside Ebbing, Missouri
Let's cut straight to the chase here. I have not seen Call Me, it is a moral flaw… need to just sit down and watch. Darkest Hour was fantastic. But I was a Political Science Major, and ADORE this kind of a movie. But HIGHLY doubt that the Academy will. I had the opportunity to visit the floor of Parliament on Tony Blair's birthday one year. I literally almost died of a Poli-Sci-Geek-Out-Orgasmic-Heart-Attack. Literally… but I digress. It was good. But it definitely wont get the votes. Dunkirk? That is a token nomination for the single most successful director in Hollywood's history. That Nolan hasn't had a movie nominated yet is nigh on criminal. No, he's not winning for Dunkirk. It was a pat on the head. Skip Get Out for a minute. Lady Bird was a great meat and potatoes movie. And Phantom Thread (Didn't Jennifer Lawrence just say she couldn't even watch Phantom Thread, lasted 3 minutes, and then stopped? Yeah, that won't bode well. Not with the #MeToo movement happening, Daniel Day Lewis in the Phantom Thread is the definition of the problem facing Hollywood right now. No, they aren't voting that direction. Not happening.) The Post? I literally slept through half of it, literally, and I loved it. And I missed nothing. Slept + Zero miss = No Oscar.
Which leaves us with our three contenders. Get Out. The Shape of Water. And Three Billboards. I adored Three Billboards. It was caustic. Man that script cut like a knife, and the acting? BEYOND amazing. These leads will clean up – promise. And it had a fantastic cause/message that the Academy can't but love. But it maybe a bit too caustic for its own good? Dunno. Just seems like it might be self defeating? And that title? Will it even fit on the Card? But this is the movie that should win… but I just don't think it will. It would get my vote anyway just from an Oscars, best movie of the year standpoint.
Get Out deserves to win. But it deserves to win in some alternate reality, not this one. How the heck did it even get nominated? I mean, racism aside, Hollywood doesn't like clever movies. They just don't. The Academy loves odes to its own flatulence. Wait, did I just say that out loud? Woah. Seriously, they do. Just trying to remember a few of the last couple of winners?… Moonlight, Spotlight, Argo, The Artist, The King's Speech? and Get Out? Really? But the Academy has a racism problem. And last year they got called out. So whether or not the Academy even WATCHES Get Out (which they would disdain if they did) they will vote for it. Any other year? The Shape of Water wins hands down and Get Out isn't even nominated. Allegorical. Art direction and acting all top notch. Tells a story of race relations without being too detailed and heavy handed. But not this year. But don't worry Guillermo – you will win Best Director for sure.
BEST DIRECTOR nominees:
Christopher Nolan, Dunkirk
Jordan Peele, Get Out
Greta Gerwig, Lady Bird
Paul Thomas Anderson, Phantom Thread
Guillermo del Toro, The Shape of Water
Nolan. Hrm. I've discussed where Dunkirk falls in his oeuvre. It's not his best. Not by a long shot. But historical war movies are the sorts of movies that Hollywood nominates. Makes them feel like they are auteurs and artists as opposed to money makers 100%. Nope. Not winning. Peele probably might get some votes. But since they will be giving the movie the Best Picture award for the night, they won't have to give Peele the Director nod, which would imply that it was a great movie. Which, they don't think it is. Let's be honest, if a movie plays well here on THiNC it's not going to play well with the Academy. Normally. Lady Bird is interesting, because we have an amazing female directing for Lady Bird. That means she's a favorite, immediately. I mean, this is the year of the #MeToo movement. And it was a BRILLIANT movie. It was good. So heck, let's pat ourselves on the back and give her the award for best director! Not so fast. Phantom thread is the opposite of #MeToo, it is the problem. And I'd be surprised if Anderson garners double digits for Phantom Thread. (I MEAN DID YOU SEE THIS MOVIE?!? It's power politics, abuse of power, and the definition of our Weinstein problem. No. No. no. Which brings us to a true auteur, Guillermo Del Toro. But he's been seen as this genius fringe art-boy, not a Hollywood insider per se. He's more well respected within the geek-comic world than Hollywood. But The Shape of Water is everything that the movie industry in Hollywood wants to support for sure. But, there are discussions that Del Toro stole the idea. Hrmmm.
And now that I am talking this one out, I really think Greta is going to win. I had assumed that the Academy would go Get Out best picture, and then split it out to Del Toro for best director. But, now? I really think the #MeToo movement will push the voters over the edge. Yeah, I'm going all in on Gerwig. Gerwig for the win.
Vegas Odds On Top Two Categories
After realizing I was making sort of a dumb decision to go with Get Out and Gerwig, I was curious how big of a dumb decision I was making. Can I QUANTIFY the dumbness? And oh yeah, the odds aren't great for what I am calling for. Here, I'll show you:
Odds to win Best Picture
Three Billboards Outside Ebbing, Missouri   -115
The Shape of Water   +140
Get Out   +550
Lady Bird   +1400
Dunkirk   +3300
Call Me by Your Name   +6600
The Post   +10000
Darkest Hour   +10000
Phantom Thread   +10000
Odds to win Best Director
Guillermo Del Toro (The Shape of Water)   -1000
Christopher Nolan (Dunkirk)   +600
Greta Gerwig (Lady Bird)   +800
Jordan Peele (Get Out)   +3300
Paul Thomas Anderson (Phantom Thread)   +6600
Hahaha! Look at that! And I think these odds are right. From a purely statistical standpoint? Yeah. This is the way it should go. Three Billboards and Del Toro. My picks are +1350! hahaha. Makes me almost find a bookie and put some money down.
BEST ACTRESS nominees:
Sally Hawkins, The Shape of Water
Frances McDormand, Three Billboards Outside Ebbing, Missouri
Margot Robbie, I, Tonya
Saoirse Ronan, Lady Bird
Meryl Streep, The Post
I am sorry, I know I probably have the winner I think it will be already bolded for you. But for me, there is no bold yet. So I have to talk this through to get you that boldness. I would love for Meryl Streep to win just to shove it in Trump's face. But no. Nope, not even close this year.  Sally Hawkins did an enchanting job in The Shape of Water. Very sweet. But it wasn't an Academy Award performance. Not with these other actors in this list. Saoirse Ronan was just mind blowingly good. And hasn't she been nominated 3 times, or some crazy number for such a young actress? She is going to be around for a long long time.
Which leaves us with two just AMAZING actresses this year. Frances McDormand and Margot Robbie. Frances blew it up in Three Billboards. Literally. Man. She was the engine that drove this movie. Just watching that passion and hatred? Wow. And then there is Margot. Shizzle. She can literally do anything. This much now I know. Talk about a role that she had to dig deep to make happen. And maybe I'm wrong here, but it just felt like the Three Billboards role for Frances was closer to her type. No? So I have to go with Margot on this one. I still remember that scene where she is cocking the shotgun and firing it, and breaking the 4th wall and talking to the screen and saying this never happened. Literally sent shivers up my spine it was so good. But you know what? Frances is the favorite by a long long shot. (Want the Vegas odds? She's -2500 and Margot is 4th(!) with +2500. Not sure if you are great at math, but that is a 5,000 level differential swing! hahahah. Am I the only one that adored Robbie in I, Tonya? That was such a shockingly good movie.
BEST ACTOR nominees:
Timothée Chalamet, Call Me by Your Name
Daniel Day-Lewis, Phantom Thread
Daniel Kaluuya, Get Out
Gary Oldman, Darkest Hour
Denzel Washington, Roman J. Israel, Esq.
I really have no idea how the non-Oldman nominations play here. Denzel? Doubt it. Kaluuya in Get Out? No way. Just isn't happening. Day-Lewis?!? Hahahahaha. Not on your life. If you saw The Darkest Hour you know that Oldman went through one of the most amazing transformations anyone has ever under taken. His voice, inflection, physical appearance. Actually, now that I think about it, this is a transformation that is more on par with something that Daniel Day-Lewis would have undergone.
Yeah, I really can't even imagine a universe where Oldman doesn't win. With the Best Actress category, I almost guarantee I am wrong. But I shouldn't be. But in the Best Actor space? I can't even figure out a way that Oldman loses.
Other Random Pick Ideas
In the best supporting actress category Allison Janney, from I, Tonya, for freaking president! Oh, MY GOSH. That's three point land from half court. She is money. That is one of those roles I went back and forth from wanting to punch her in the face to kiss her. She was fullon.
For the best supporting actor category all I have to say is that Three Billboards has not one, but TWO actors nominated. Woody Harrelson and Sam Rockwell. And I hate to say this, but Woody isn't going to be the one that walks with the trophy out of the two… it'll definitely be Sam Rockwell. The level of stupidity, and incredulity, and blind obedience was just fantastic to watch. Such good acting.
The Best Screenplay category is always one of my favorites. I even try and read most of the scripts that get nominated each year. This year I didn't. But we have a bit of a race between The Shape of Water and Get Out. But with the controversy on Water over the script (yes, a court said that Del Toro didn't steal the script, but, dang, if you watched the college project that is arguing he did, it's not a black and white case. I personally think he nabbed the script, if I were honest) I'll say that that might take the edge off. And Get Out really is a brilliant idea and screenplay. I think the nod will go to Get Out.
On the animated front, I've already come out and said that Coco will win hands down. And I'm not backing down now. That's really a non-starter. It's not even going to be a race that movie was so amazing. Personally think it should have been given a Best Picture nod over The Post or even Dunkirk, if truth be told.
I really hope Icarus wins best documentary. I mean, seeing as though it single handedly unraveled the Russian Olympic doping scandal that just played out at the Winter Olympics. It should, by any effective measure, win. But since when has the Academy been reasonable?
Best Cinematography? Any takers on a bet against Blade Runner 2049? Yeah, I didn't think so. Wow. That movie just never stopped on visuals. It was beyond amazing.
Makeup? Yeah, Darkest Hour… for sure. I mean, I think I read somewhere that Oldman was in the makeup chair for over 200 hours? TWO HUNDRED? I haven't done anything 200 hundred hours this past year. (Wait, hold one second…)
Oh, I do think Dunkirk will win best sound editing. But that's about it.
Alright, there are more categories, but I've lost my momentum. If you want, you can just join me for the Oscards in my front room while I scream at the TV. You are welcome as long as you don't talk to me at all. Fair?