Ocean's 8 Review and Deconstruction
Ocean's 8 Review and Deconstruction
I'm a huge fan of women. Nope. That did not come out right at all. I'm a huge fan women and for their equal pay. I'm also a fan of women getting a shot at lead roles in Hollywood that have been held back from them. And for studios opening up to movies helmed exclusively by women. Why not? I know why not. You'd not do it if you were threatened by women. (Same goes for other races, cultural backgrounds and ethnicities. You wouldn't do it if you felt threatened. Which, seems just really sad to me. Putting others down because you are stressed about how capable you yourself are?
But I have to say, that, when it comes to Ghostbusters and the Ocean's all female remakes, it's almost like these women are ok with taking the cast offs, the retreads if you will. Yes, I thought the ghostbusters remake was funny. And yes, I enjoyed Ocean's 8… but both of these were done with franchises that the men were done playing with. Clooney had decided he wanted to go out on top. He was done. Finished. With the franchise. Is the new goal for women to be the go to shop for franchise resurrections?
Self disclaimer: I am not a fan of franchises generally. Franchises tend to take a well thought out idea – like the original Ghostbusters or Ocean's (no, not that one, but the 1960's idea) and subtly change them, while generally not thinking much at all. But with the actresses and the star power in this film?!? why aren't they going after a new and original idea? Heck, hire Christopher Nolan, Shane Carruth, or Aaron Sorkin to create you an idea. (Or a female writer, I just couldn't think of any groundbreaking screenplay authors like these three off the top of my head.) A crazy new, crazy wild idea on the scale of Quiet Place… and then hire a wicked cool female screenplay author to script it.
Anyway, if you haven't seen the movie, here, watch a trailer, and then go buy a ticket and watch it. Otherwise, this post is going to totally ruin the movie for you. And I really don't want to do that.
Ocean's 8 Numbering Chaos
First. I have to start with a name and a title. The name is Debbie Ocean, played by Sandra Bullock. And the title is Ocean's 8. The name Debbie Ocean coupled with the 8, sort of seemed to me to be implying that Sandra Bullock's character preceded Ocean's 11, and was the prequel and spiritual (or literal?) godmother to the title for the entire series. (Which is sort of funny, in that Ocean's 11 was a remake of the 1960 heist film with, Frank Sinatra, Dean Martin, and Sammy Davis Jr.) But no. That isn't what was happening. Actually, Ocean's 8 is just following the trend kicked off by Steven Soderbergh (who recently did a film that totally turned my brain inside out… absolutely had a good time with it, called Unsane. Gotta check it out.) which made the title just indicate the number of crew involved in the heist.  So eleven in Ocean's 11, twelve in Ocean's 12, and thirteen in… oh you get the idea. So obviously, Ocean's 8 required eight female leads to make it happen and is a sequel to Ocean's 13, in spite of the lower order of the number. Oh that, and the fact that Debbie Ocean's brother? is (was) Danny Ocean, and is now dead. So yeah, definitely a sequel in spite of the obvious numbering fiasco. 
Another note on the numbering… I'm assuming that they were assuming when they created it, that Ocean's 8 is the first of three more movies on the way. They didn't number it Ocean's 10… which they could have. Or heck, Ocean's 14! But then I'm sure they didn't want fourteen actresses either. So there's that. So Ocean's 8 it is.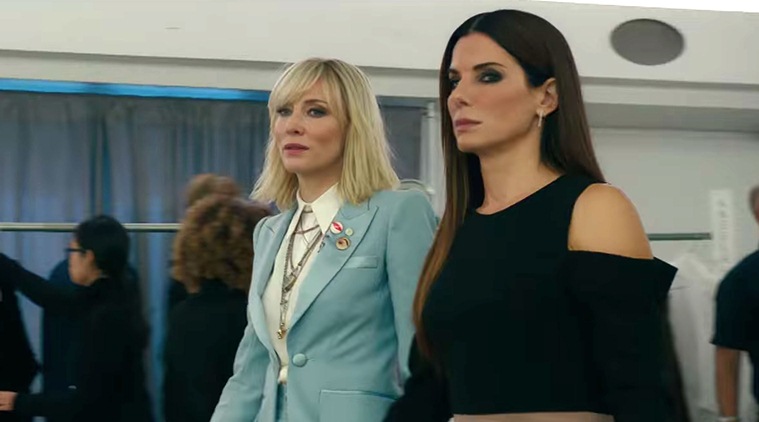 Quick Ocean's 8 Overview and Walkthrough
Debbie Ocean has been in the clink for the last five years. Five years, eight months, and twelve days apparently… because, she won't let us forget. As the movie starts out, she is being paroled, and she is unequivically declaring her desire for a "normal life". But immediately upon her return she begins pulling together one enormous heist that she has been planning for the past five years, eight months, and twelve days.
To pull off her plan though, Debbie is going to need a crew. And her first stop is her old friend Lou (Cate Blanchett), to whom she pitches the idea of an enormous heist. Obviously she says no first, and then yes when she hears what the haul will be. From there Debbie and Lou begin pulling together their six more team members in order to pull off the heist that is running through Debbie's mind. The rest of the team included, Rose Weil (Helena Bonham Carter), a disgraced fashion designer, Amita (Mindy Kaling) as a jewelry maker, Nine Ball (Rihanna) as a hacker and tech genius(?), Constance (Awkwafina) is a street hustler and pick pocket, and Tammy the suburban housewife and professional fence. Once the team is assembled, Debbie walks through the planned heist. Which, I have to say, is an extraordinarily standard trope for the heist flick movie.
THE PLAN
The Goal: The Toussaint, a $150 million Cartier necklace.
Location: The MET Gala
The Timeline: 5 weeks
Debbie has decided that they would social engineer Daphne Kluger into wearing the diamonds to the gala, and in effect, muling the diamonds into their reach. But in order to steal the diamonds, they'll need to replace them with fake diamonds so that no one is any the wiser. And to do that, Rose and Amita scan them in order to create a fake necklace. The goal being to get Daphne into a blind spot at the Gala near the women's bathroom that will allow them to nab the jewels.
And then Debbie pulls in the man that sent her to prison in the first place, Claude Becker. And she arranges for Claude to meet Daphne, who immediately invites Claude to the Gala. Well, if you are thinking at all, you immediately realize that this entire heist is about revenge for Debbie – and that she cares more about getting Claude back then about the jewels. Well, Lou figures that out too and tells Debbie the one con is con enough and to let Claude go.
THE DAY OF THE GALA
Obviously, during the day of the event, not everything will go to plan… otherwise they wouldn't have told you the plan. That's just rule number one of heist films. And similarly, Ocean's 8 goes sideways from the start. Mainly, because of a special clasp that can't be opened except for with a specific opener. Nine Ball manages to pull in her sister in order to get the clasp opening figured out with a special magnet. (Just in time! phew!)
Throughout the Gala, all of the team members are sprinkled throughout the event. Tammy was able to get a job as a Vogue correspondent. Debbie is impersonating a German. Rose is with Daphne and Claude… who still has no idea he is about to be framed. (I mean, because you did, right??!) You get the idea. The team is insinuated into the Gala left and right.
Well, the heist kicks off with Lou spiking Daphne's soup. And when Daphne begins to throwup she runs to the bathroom. And when she starts puking, Constance slips the necklace off, and then she drops it into a busboy's bin of dishes. And from there, Amita pulls it from the bin and takes off with it in order to disassemble it. Almost getting caught, Tammy pulls it (the fake) from a fountain and the chaos of the missing necklace chills out. And Amita? She's crafted them into multiple single pieces that the team then wears out of the Gala. (Because why carry it in your pocket when you can wear them out instead?)
AND NOW REVENGE
Obviously, Cartier immediately notices that the necklace they got back is a fake. They call an insurance investigator, and commission him to hunt down the thieves and the necklace. He interviews all the suspects, including Daphne, Claude, and the busboy. Amazingly, the insurance investigator (John Frazier) has a history with the Ocean family, and so he quickly discovers that Debbie was there at the Gala. But she has an alibi! She's seen on security footage outside the bathroom the whole time. Phew! BUT! She might know where the necklace might still be.
The big reveal… all Heist movies have a trick to them. And Ocean's 8 is simple enough. Apparently, Daphne, ditzy though she was, grew suspicious of Rose due to how terribly she hid the fact that she was trying to film the new magnetic clasp. And as a result, Debbie and Lou invited her to join the crew in order to keep from getting busted by her. And thankfully! She doesn't have any friends. And so voila! She's in.
And so, Daphne visits Claude, and over the course of the evening, she handcuffs him to the bed and she "discovers" the planted diamonds on him by Debbie during the Gala. She then sends a photo of Claude and the diamonds so he can arrest Claude for the theft. The nail in the coffin is that Debbie has sold several of the diamonds from the piece and deposited the money into an account in his name. And voila, Debbie has her revenge on Claude.
THE HEIST INSIDE THE HEIST
If you thought the Toussaint was too small of a job for an Ocean's movie… you'd be right. Because not only did the crew heist the Toussaint, but also stole some of the Crown Jewels as well. Which, (who knew?) were actually a part of the exhibit as well. And as the chaos ensues around the missing necklace, Lou and Yen were stealing a few of the Crown Jewels in this exhibit. Debbie played the distraction, yen suspended down from the ceiling, and Lou grabbed the jewels with a toy submarine (Yeah, I don't know either.) And then the gals all go their separate ways, each with their own version of blissfulness and happily ever after. And Debbie returns to Danny's grave and lets him know he would have loved it.
But is Ocean's 8 Worth It?
In my piece talking about some of the top grifter movies of all time I make it clear that there are certain things that make a great Con Artist movie. Believability. An amazing head fake. A believable resolution. And not too much magic after the fact. Which Ocean's movie, Ocean's 13 maybe? was the one that was stealing art and all of the stealing actually happened before the movie even started? Yeah, uncool. Totally uncool. (Unless you are Shane Carruth, and Primer, that isn't allowed! hahaha.)
This movie didn't really do that, and yet it sort of did. Oh… by the way, we stole the crown jewels while we were at it. Because you know? Why not?!? hahah. Ok. Sure. And the method of that heist just seemed completely and totally implausible. Which, some would say, this movie is just meant as a comedy… not really a real heist movie like Nueve Reinas. Or Criminal. Which, is fine. I guess. But I want a real Heist movie in the form and function of The Sting. Because, they are such great movies. But man, you have to have a talented criminal, I mean, writer on your team to write a screenplay like that.
But otherwise, I found the movie funny and entertaining. And enjoyable all the way around. But Grift movies are a tough sell in my world. But I'm not going to judge it on that playing field. And I really enjoyed it overall. Made me laugh a number of occasions. I don't know, what did you think of it?