See.
This is what I'm talking about. This is a company out of MN that is throwing the gauntlet down. They've brought in 120 web professionals and donated the diggs and the computers.  The web gurus then compete – by developing cutting edge web solutions for the various non-profits over the span of one day.  Tons of coffee and at the end a working website that will change lives going forward.  Web geeks get 24 hours of fun and to top it off winner gets bragging rights.
THIS IS WHAT I'M TALKIN 'BOUT.
This is out of the box thinking. And as far as I know these guys are just using this as a publicity stunt. There is not a driving affinity that is causing them to do this. And I'm thinking the Christian community can do one better than this. Why can't we create a company that does this kind of development 24/7/365?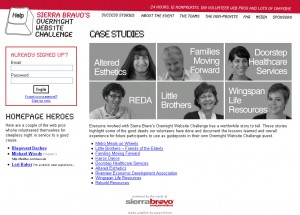 And this is just one night of caffeine and bragging rights.  And 12 non-profits were impacted immediately.  What's stopping us from doing this as a fulltime gig?  Really?  There has GOT to be a sustainable funding model here somewhere.  The synergistic savings across all ministries and non-profits would be just gi-normous.
WHAT'S STOPPING US?