Books We Love April 2013
Hey there everyone,
So for a couple months now we have been listing out some of the most interesting books published and some of the most interesting books on the way. We are always watching for new trends in fiction and new hits before they "hit". A great example would be "Gone Girl" which is changing Chic-Lit from the inside out and infinitely smarter than the 50 shades sink hole. This month we have a couple books that could possibly be the new Gone Girl and could warrant our keeping our eye on them to see what becomes of them.
Books We Love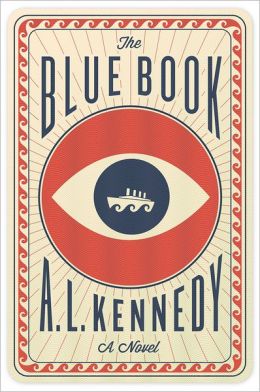 The Blue Book by A.L. Kennedy Admittedly, we only just started this novel a day or so ago… and yet, we already know its a book that we love. The plot, the lyrical writing, everything.  Derek and Elizabeth are heading aboard a liner for a transatlantic cruise.  Elizabeth runs into an ex-love Arthur whom she shared a shady past with.  Apparently they traveled around as con-artist mediums speaking to famiy's on behalf of the dead.  Derek remains in his cabin seasick while Elizabeth wanders the ship going from avoiding Arthur to seeking him out.  Sure its a complicated and difficult read at times but we really have enjoyed the exercise so far.
Wool by Hugh Howey – Wool was amazing. Trust us. Read it. Basically, Wool is a post apocalyptic novel about a society trapped inside a silo that is hundreds of stories deep. Resources are so scarce that the underground society has established lotteries to handle new births and even cleanings. Cleanings are required to keep the external windows and sensors clean, but anyone that leaves is doomed to die. Or are they? Howey began his stories as online downloads and eventually began selling $150,000 a month worth. Howey only recently sold the book rights. Wool is an amazing new book series from an author worth keeping our eye on.
Ghostman by Roger Hobbs – We highlighted this book back in March as a book to keep our eye on. And we were right. Think Pulp Fiction meets Ocean's 11. What begins as a simple search and rescue operation devolves into a downward spiral of intrigue, alliances and back stabbing. What we enjoyed most about this book was the technique of it all. Hobbs lays it all out for us to admire. Bank vaults, passport creation, alarm systems, driving techniques, everything. But the real win here is the story and the way he folds it back in on itself over and over again. Well done.

Going Clear: Scientology, Hollywood, and the Prison of Belief by Lawrence Thomas- We have a very unnatural fascination with the Church of Scientology. This is fairly telling, but loved reading Lawerence's 25,000 word tell all magazine article entitled "Apostate" that he turned into this book despite the gaggle of lawyers descending on his office. There are so many revelations here I can't even begin to do it justice. If you are interested in reading the original magazine article you can read it here. But we definitely wanted more than 25k words… we enjoyed the book sized meal better, even if the Church of Scientology did not.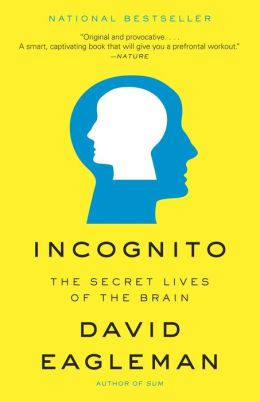 Incognito: The Secret Lives of the Brain- Renowned neuroscientist David Eagleman navigates the depths of the subconscious brain to illuminate its surprising mysteries. Why can your foot move halfway to the brake pedal before you become consciously aware of danger ahead? Why are people whose names begin with J more like to marry other people whose names begin with J? And why is it so difficult to keep a secret? Taking in brain damage, plane spotting, dating, drugs, beauty, infidelity, synesthesia, criminal law, artificial intelligence, and visual illusions, Incognito is a thrilling subsurface exploration of the mind and all its contradictions.
The Silver Linings Playbook by Matthew Quick We think this is two months in a row where we have done this backwards. Seen the movie and reversed tracks to read the book? What is that about exactly? Well, we'll tell you what its about – its about an amazing book like Wallflower or Silver Linings giving root to amazing movies… which in turn draws people late to the party like me in. This is a great book. We'd go so far as to say that it was better than the movie even… though the movie is amazing in its own right. Makes us want to go back and watch the movie and read the book all over again.
Books We Will Love
The Shining Girls by Lauren Beukes (June 4) – Arriving on our 40th birthday no less – The Shining Girls seems like an excellent gift. Its the story of a time-traveling serial killer who is impossible to trace–until one of his victims survives. In Depression-era Chicago, Harper Curtis finds a key to a house that opens on to other times. But it comes at a cost. He has to kill the shining girls: bright young women, burning with potential. He stalks them through their lives across different eras until, in 1989, one of his victims, Kirby survives and begins hunting him back. Working with a reporter that is falling for her, Kirby has to unravel an impossible mystery.
The Interestings by Meg Wolitzer (April 9) – Oh how we are excited about The Interestings… Six teenagers at a summer camp for the arts become inseparable. Decades later the bond remains powerful, but so much else has changed. The kind of creativity that is rewarded at age fifteen is not always enough to propel someone through life at age thirty; not everyone can sustain, in adulthood, what seemed so special in adolescence. A few succeed while the others settle. The friendships endure and even prosper, but also underscore the differences in their fates, in what their talents have become and the shapes their lives have taken.
Red Moon by Benjamin Percy (May 7th) – When government agents kick down Claire Forrester's front door and murder her parents, Claire realizes just how different she is. Patrick Gamble was nothing special until the day he got on a plane and hours later stepped off it, the only passenger left alive, a hero. Chase Williams has sworn to protect the people of the United States from the menace in their midst, but he is becoming the very thing he has promised to destroy. So far, the threat has been controlled by laws and violence and drugs. But the night of the red moon is coming, when an unrecognizable world will emerge…and the battle for humanity will begin.
Detroit an American Autopsy by Charlie LeDuff – Fascination with Detroit began when we realized we could purchase homes there for a buck. Franzen's novel "Freedom" gave us another vantage into the city as well. And now Pulitzer Prize–winning journalist Charlie LeDuff searches through the ruins for clues to its fate. Detroit is where his mother's flower shop was firebombed; where his sister lost herself to the west side streets; where his brother now works cleaning screws so they can be repackaged as "May Be Made in United States." We can't wait to read this autopsy report.
See you next month! And happy reading.