Banksy In New York Book Available
I talk a bit about Banksy here at THinc.  If you are completely and totally unaware, then wow.  I got nothing.  But if you are, you may still not have known that Banksy made his way to New York for 30 days of art that basically turned the city upside down while he was there.  I got quite a bit of traffic from people interested in wanting to track his shenanigans together.  Several thousand actually, which surprised me because I thought my love for the guy put me firmly in the minority.
I'm actually so hung up on the underground artist that I just crafted my own mac decal from one of my favorite works by him.  But to understand you'll need to know Banksy's Donut Truck piece first.  So, here is the Donut piece… followed by my decal version.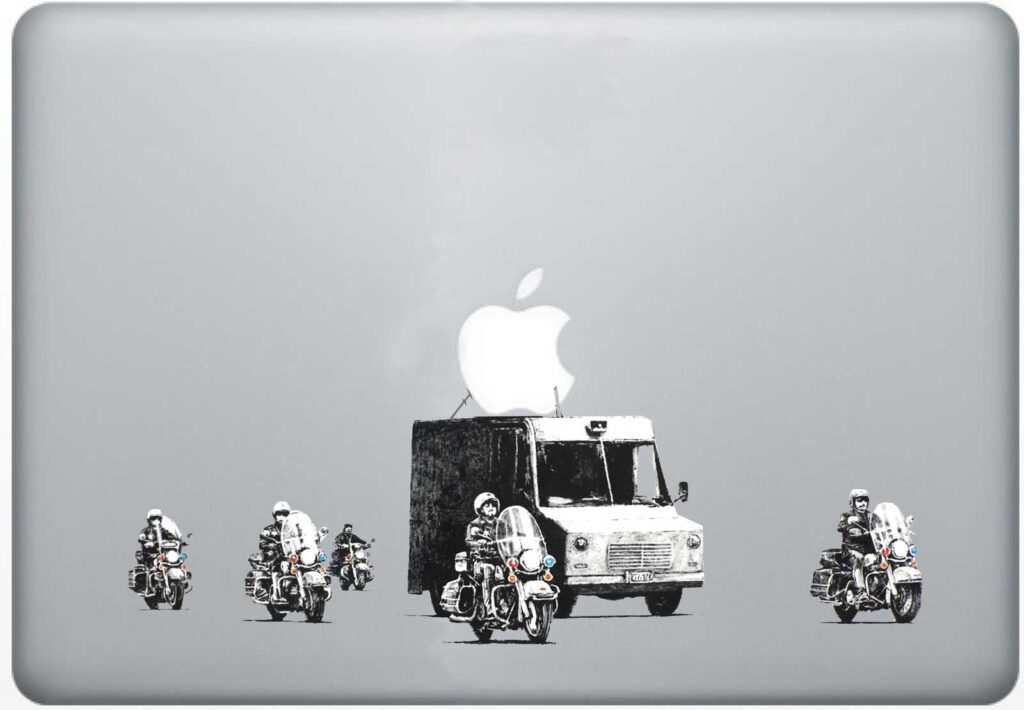 Which is so complicated as to basically be incomprehensible by most random people.  So I'm looking forward to sporting it out in the world to see what exactly will happen.  Starbucks should be an awesome sociological experiment.  To be honest, I'm not even sure I know what I've made it out to mean!  hahah.  Banksys' meant, that we have become a materialistic society, and we've taken to protecting the really dumb things we shouldn't have?  (I'm making this up as I go here.)  And mine, basically simultaneously mocks Apple and praises them?  Hahaha.  If you know that the Apple is replacing a donut then you know that it mocks the company.  And if you don't know that, then you think it's praising them maybe?  It will be fan is all I know.
Speaking of which, I've been thinking about digging in to Reddit, 4Chan, and various other dark recesses of Geek-dom in order to begin investigating who Banksy really is.  I already have a couple of theories (This should surprise you zero.  This is the guy who has takes to the conspiracy theory that Shakespeare was a front man.  Of course I will have theories about Banksy.) and would love to get some geek brain power together to investigate some data!  All in favor of outting Banksy!?  cricket.  cricket.  Ok whatever.
Ok, now to the original point of this post.  There is now a book on sale discussing Banksy's New York show.  Only 2,000 copies are going to sell.  1,000 are already gone.  For $35.00 it seems like a steal.  I'll let the author explain the book in his own words:
"Banksy in New York" by writer and photographer Ray Mock is the ultimate companion to Banksy's month-long project on the streets of New York in October, 2013.

Mock has been documenting street art and graffiti in New York and around the world for many years. His photography has appeared in numerous books (including Graffiti 365 and Banksy: You Are an Acceptable Level of Threat) and magazines. He is also a regular contributor to the arts and culture website Juxtapoz.

"Banksy in New York" offers a first-hand day-by-day account of the residency and many of the events surrounding the daily hunt for new pieces. The author is as much a fan as a critic of the artist's work and delivers his account in the form of a personal narrative that is by turns insightful and humorous, paying homage to Banksy's wit and creativity while challenging the artist – and his detractors – to consider the true impact of his work.

"Banksy in New York" features over 120 photos and illustrations on 120 pages and is available in a limited edition of 2,000."
The only thing better would be if the book came with a copy of "Please Exit Through the Giftshop" – which was the movie that really turned me on to Banksy.  Here are a couple shots from the book.  Looks like an awesome gift for over board fans like me!  Cough.