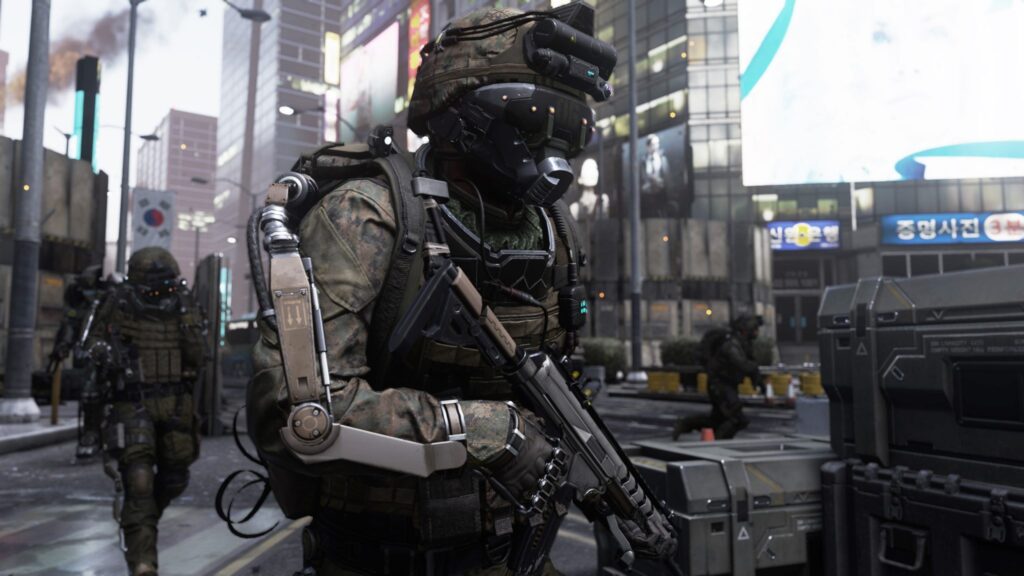 Call of Duty Advanced Warfare Next Gen Thoughts
There are only a few games out there the get your pulse pumping like the Call of Duty (COD) series.  We've all played the heck out of Destiny, and sure, we'll keep going back to that well when we get bored elsewhere.  But now we have a few COD Advanced Warfare thoughts for you all.  But first, to really understand just how exciting Advanced Warfare is, you need to understand just how terribly disappointing COD Ghosts was on the new modern console.  Check out this huge comment from Forbes:
With Call of Duty: Ghosts, the developer made the bold decision to embrace every single one of the series stereotypes to its fullest potential, yielding an uninteresting game that failed to meet Activision's expectations and put the blockbuster series on shaky ground going in to the new generation — recent analyst chatter should be enough to signal that. The pressure was on for Call of Duty: Advanced Warfare to do something that made people pay attention again. And, surprisingly enough, it did.
The problem with Ghosts was that it was a previous gen build that ported to the new consoles of the One and the PS4.  The graphics weren't nearly as good as they could have been and the 1080p video framerate just didn't seem that good.  But now, with this the latest version of the game 1080p isn't an afterthought it is the whole enchilada.
With regard to the frame rate and dpi settings it appears that the two new modern consoles have taken different approaches to the same problem.  The Playstation 4 has locked in the 1080p dpi rate.  It forces the dpi no matter what is going on or how fast and furious the game play gets.  DPI is what sets the number of pixels on the screen and is great for marketing… but may not be the best option for game play.  Microsoft has taken the opposite tact.  For the Xbox One they have put game play first and foremost.  They have set the dpi to drop a bit, so that the frame rate stays at 60 fps.
"We've finally come to the point where the franchise can be considered "current-gen" by any standard. While Ghosts was developed primarily for last-generation hardware, the PC, Xbox One, and PS4 versions have the top honors here, and it shows. The faster gameplay really lends itself well to a farther draw-distance and a smoother framerate, and load times are drastically improved."
If you love geeking out on this stuff – framerates, dpi settings, shadow rendors and poly-counts… boy do I have a video for you:
What's the take away from this?  PS4 fanboys will be screaming YEAH!!! 1080p baby!!!  IN YOUR FACE MICROSOFT.  And the Microsoft Fanboys will be saying… and look at your thrashing framerate count.  Pardon me while I head shot your lagging, butt dragging self.  Both are right.  Its sexy to have a full 1080p digital output to the screen.  A marketer's fantasy.  And the gamers amongst us know how bad it is to have screen ripping going on while playing.  But its an amazing experience on both consoles I'm sure.  And I'm totally stoked that this is an argument that we are having right now.  As opposed to the conversation about game ports and how awful they are for Ghosts.
My prediction?  The next gen consoles are going to blow up this Christmas.  They are going to take off.  Finally we have content that will drive users to buy the hardware.  Finally we have a reason to move.  And framerate and dpi (whether you know it or not) are definitely one of those reasons.  Because at the end of the day, the games will only get better from here on out now.  I am finally ready to let go of my 360 and completely bury myself in my One.
Anyway, here is an brilliant game review of Advanced Warfare by Conan.  Yeah.  Late Night Conan.  He does another Clueless Gamer review, and it is hysterical.  So whether your are into games or not, this is a definite must watch.
Favorite quotes:  "Look at his hands, how red they are, he's a Beet Farmer!"  "There was a bridge there the whole time?!?"  Riot.  Loved it.  Send me your gamer tag if you are playing on the One.  Mine is Djinnster.  See you out there.