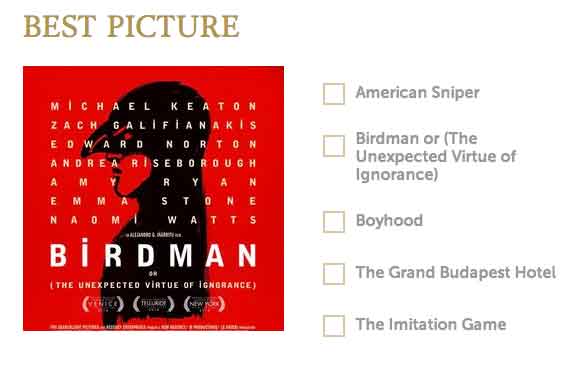 Friendly Oscars Pool Competition 2015

Every year I spend countless hours analyzing the picks trying to not figure out who SHOULD win the Oscars, but who will win.  There is a very big difference.  Right?  Understanding the psyche of the Academy and understanding which movie is best are two totally different exercises.  Regardless, if you are interested in jumping in and watching the car crash happen with me this year, I've created a pool that everyone can join.  Come one, come all!!
Here is the information you need to jump in:
1. First step – click this link right here.
2. Enter the following information:
a. In the Pool ID box, enter the number 39174
b. In the Pool Password box, enter 'taylor' (without the single quotes)
3. Fill out the form information, including a personal username and password. (Rest assured, this information will NOT be sold or utilized for spam email under ANY circumstances.)
4. Make your picks, with the ability to change them right up until the Awards Show.
Simple enough right?  Come on!  What are you doing?  Jump in, the water's warm!  And just because I'm awesome like that, I'm including a graph of the Oscar's length each year, which will help you with the final question.  See?  What's not to love here people?