Why Last Night's Oscar 2015 Selections Were Important
So, normally, the morning after I crow a bit.  I jig a bit.  I get carried away a bit.  All because I knew basically what the Academy was going to do.  Last night?  Not so much.  Oh sure, I got many of the big ones right, but in my full selections list I got just as many wrong.  This year, the Academy gave out Oscars to everyone of the Best Film nominees.  Sure, Boyhood's only Oscar was Best Actress, but I saw that coming a mile away.  Whiplash represented well.  Imitation Game did better than I thought it would do (seeing as though it was fairly formulaic).  I thought Selma got an amazing tribute with the Best Song.  And there didn't seem to be a dry eye in the place.
But the big news for the night was the fact that there were surprises at all.  Normally in the world of Oscars Vegas can get within a 90% certainty for most picks because Hollywood is so dang easy to read.  But last night, the closest they got was 55% because of the race between Birdman and Boyhood.  So, it was good that the Academy got something of a clue and pushed the Oscars around.  It was also fantastic to see Birdman win.  It really was an amazing movie, not just the writing, but also the technique and craft of movie making, and also the amazing acting.  (How Keaton didn't walk away with Best Actor, I'll never know.)   The Oscars had seemed to be getting a bit formulaic in their selections, so it was good to see it switch up a bit.
Thanks to everyone that participated in the Oscar pool.  It was a lot of fun.  And we'll see you next year!  Here's a review of some of my picks and misses for the night.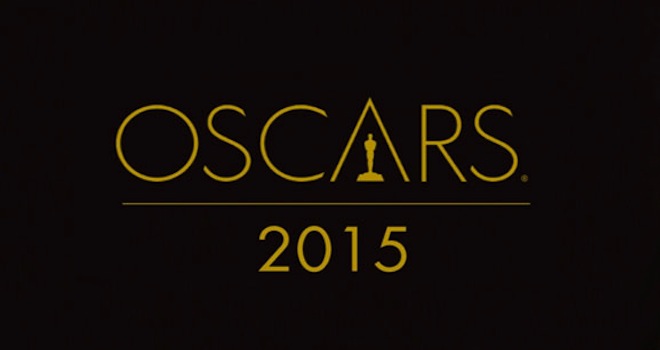 Alright – Let's go out on a limb here and post are assumptions about the major categories being decided tonight at the Oscars.  I'll check back tomorrow and see how poorly I did this year.  My selections are highlighted in Blue and Bold.  As an aside, if you are into screenplays, you can find over 30 of this year's best movies screenplays here.  Over the last week I read Birdman and Boyhood and enjoyed them both immensely.  Anyway – here are my picks: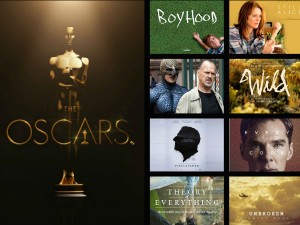 BEST PICTURE
American Sniper
Clint Eastwood, Robert Lorenz, Andrew Lazar, Bradley Cooper and Peter Morgan
Birdman or (The Unexpected Virtue of Ignorance)
Alejandro G. Iñárritu, John Lesher and James W. Skotchdopole
Boyhood
Richard Linklater and Cathleen Sutherland
The Grand Budapest Hotel
Wes Anderson, Scott Rudin, Steven Rales and Jeremy Dawson
The Imitation Game
Nora Grossman, Ido Ostrowsky and Teddy Schwarzman
Selma
Christian Colson, Oprah Winfrey, Dede Gardner and Jeremy Kleiner
The Theory of Everything
Tim Bevan, Eric Fellner, Lisa Bruce and Anthony McCarten
Whiplash
Jason Blum, Helen Estabrook and David Lancaster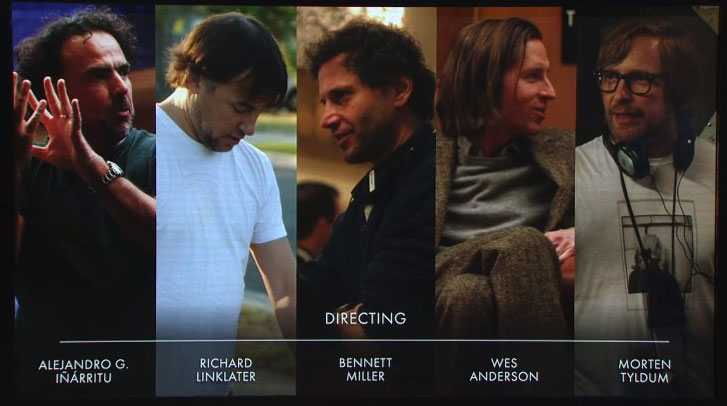 DIRECTING
Birdman or (The Unexpected Virtue of Ignorance)
Alejandro G. Iñárritu
Boyhood
Richard Linklater
Foxcatcher
Bennett Miller
The Grand Budapest Hotel
Wes Anderson
The Imitation Game
Morten Tyldum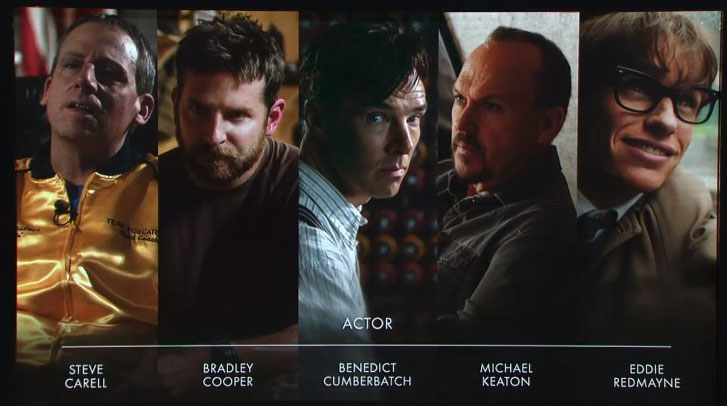 ACTOR – in a Leading Role
Steve Carell
Foxcatcher
Bradley Cooper
American Sniper
Benedict Cumberbatch
The Imitation Game
Michael Keaton
Birdman or (The Unexpected Virtue of Ignorance)
Eddie Redmayne
The Theory of Everything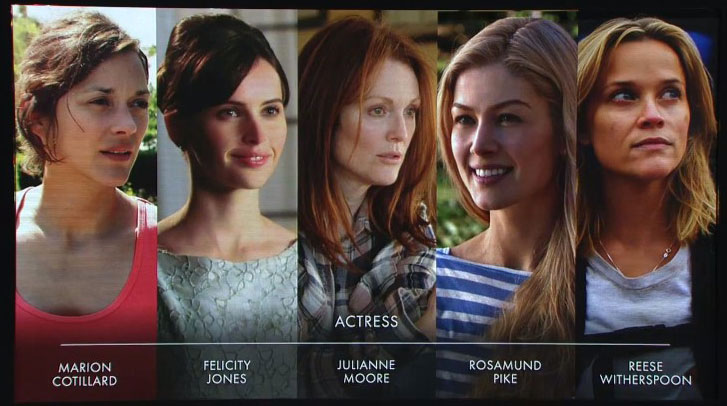 ACTRESS – in a Leading Role
Marion Cotillard
Two Days, One Night
Felicity Jones
The Theory of Everything
Julianne Moore
Still Alice
Rosamund Pike
Gone Girl
Reese Witherspoon
Wild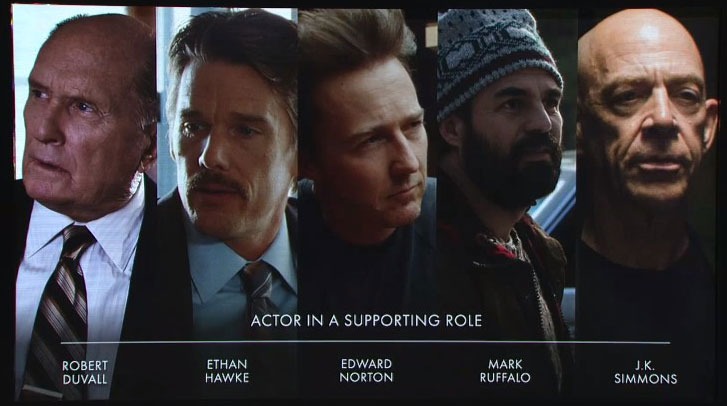 ACTOR – in a Supporting Role
Robert Duvall
The Judge
Ethan Hawke
Boyhood
Edward Norton
Birdman or (The Unexpected Virtue of Ignorance)
Mark Ruffalo
Foxcatcher
J.K. Simmons
Whiplash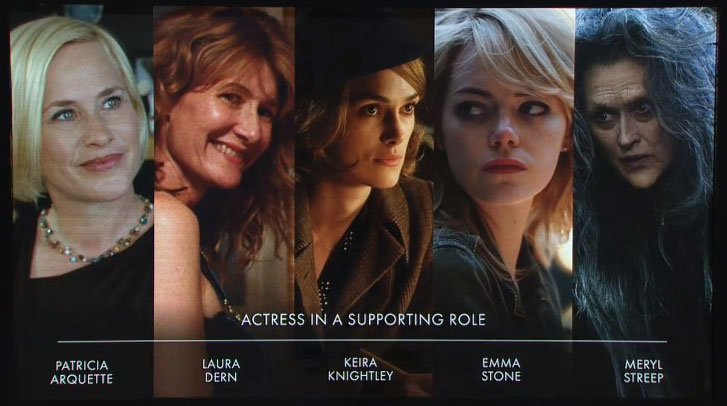 ACTRESS – in a Supporting Role
Patricia Arquette
Boyhood
Laura Dern
Wild
Keira Knightley
The Imitation Game
Emma Stone
Birdman or (The Unexpected Virtue of Ignorance)
Meryl Streep
Into the Woods
ANIMATED FEATURE FILM
Big Hero 6
Don Hall, Chris Williams and Roy Conli
The Boxtrolls
Anthony Stacchi, Graham Annable and Travis Knight
How to Train Your Dragon 2
Dean DeBlois and Bonnie Arnold
Song of the Sea
Tomm Moore and Paul Young
The Tale of the Princess Kaguya
Isao Takahata and Yoshiaki Nishimura
DOCUMENTARY FEATURE
CitizenFour
Laura Poitras, Mathilde Bonnefoy and Dirk Wilutzky
Finding Vivian Maier
John Maloof and Charlie Siskel
Last Days in Vietnam
Rory Kennedy and Keven McAlester
The Salt of the Earth
Wim Wenders, Juliano Ribeiro Salgado and David Rosier
Virunga
Orlando von Einsiedel and Joanna Natasegara
SHORT FILM – Live Action
Aya
Oded Binnun and Mihal Brezis
Boogaloo and Graham
Michael Lennox and Ronan Blaney
Butter Lamp (La Lampe au Beurre de Yak)
Hu Wei and Julien Féret
Parvaneh
Talkhon Hamzavi and Stefan Eichenberger
The Phone Call
Mat Kirkby and James Lucas
VISUAL EFFECTS
Captain America: The Winter Soldier
Dan DeLeeuw, Russell Earl, Bryan Grill and Dan Sudick
Dawn of the Planet of the Apes
Joe Letteri, Dan Lemmon, Daniel Barrett and Erik Winquist
Guardians of the Galaxy
Stephane Ceretti, Nicolas Aithadi, Jonathan Fawkner and Paul Corbould
Interstellar
Paul Franklin, Andrew Lockley, Ian Hunter and Scott Fisher
X-Men: Days of Future Past
Richard Stammers, Lou Pecora, Tim Crosbie and Cameron Waldbauer
WRITING – Original Screenplay
Birdman or (The Unexpected Virtue of Ignorance)
Written by Alejandro G. Iñárritu, Nicolás Giacobone, Alexander Dinelaris, Jr. & Armando Bo
Boyhood
Written by Richard Linklater
Foxcatcher
Written by E. Max Frye and Dan Futterman
The Grand Budapest Hotel
Screenplay by Wes Anderson; Story by Wes Anderson & Hugo Guinness
Nightcrawler
Written by Dan Gilroy