La La Land is a 50's style Musical for the modern mind. Smart. Insightful. And Poignant.
IMDB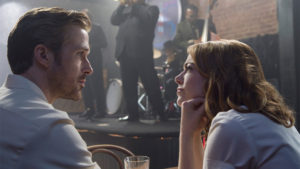 I think I spent 90% of my Christmas break in the movie theater. Which… is normally a dream come true. Only problem is? 90% of that time I won't be using for reviews out here – which, means all that time was wasted! hahah. But there was one movie in particular that I definitely wanted to tell you all about – La La Land, which was basically a nostalgic ramp through my childhood haunts. Definitely blew my mind.
But I generally don't write about movies filmed in the locations of my childhood. It was actually something that happened to me as we were standing up and leaving that made me think I should probably write about the film. And basically, as I was getting up, EVERYONE around me was saying to their significant other, "Uh,… that was really weird." Which, made me think that they didn't like the movie? But as I thought about it some more, and after I found out that La La Land has like an unbelievably high rating on Rotten Tomatoes, etc. that maybe they were saying something different. Maybe it was just the ending that they didn't understand.
So, I'll do a quick pitch to everyone that hasn't seen the film yet. Explain what it's about. Maybe throw a trailer at you. And then we'll dive into that head scratcher of an ending and see if we can't make any sense out of that thing. Ok? I personally thought it was as clear as day, but maybe it wasn't obvious because it wasn't specifically a happy ending. Which probably felt enormously incongruous to the film at large.
La La Land's Song and Dance
While watching Moana with the kids over Christmas week I had an epiphany. I think, it is a global conspiracy that says we don't love the cinema of the 1950's. The musicals. The tap. the dancing. The choreography. For some odd reason it is Disney that has retained the rights to this particular formula and has made a multi-billion dollar industry by farming our hidden collective desires. Which is why La La Land is doing so well. To watch a couple take a moment out to put on tap shoes before beginning to sing their dialogue? What? But that is what La La Land is all about. A serendipitous (star-crossed?) romance that centers on two people trying to make their dreams come true in Hollywood. Here, let's let the trailer tell you – it's way more eloquent than I am.
So yeah. It's really really a great movie. The schtick. The Mary Poppins type nostalgia and optimism. Singing and dancing? It's fantastically old school while still being 100% modern. Which, is a trick really, now that I think about it. So go see it. But if you saw it, and you were baffled about what it is exactly that you saw, why don't we walk through La La Land slowly, and explain exactly how that ending shaped up the way it did. But if you haven't seen the movie yet, you probably want to avert your eyes now. You've been warned. But don't worry, La La Land is started to go wide now, and should be in theaters everywhere by this weekend I'd guess? So find it. Watch it. Then come back.
The Locations of La La Land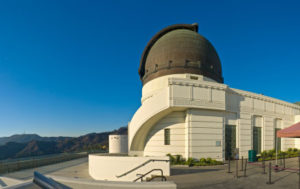 First things first, I grew up in all of these old haunts that get paraded throughout La La Land and it was even a little disorienting to see them again. For me, the first half of the movie felt more like Los Angeles tourist advertisement from the Southern California Tourist Bureau than an actual movie. The Griffith Park Observatory. That Colorado Street bridge in Pasadena. Bunker Hill District. And of course, it wouldn't be LA without a view behind the scenes of the Hollywood Center Studios (which were standing in for Warner Bros. Backlot. Don't be fooled, even when Hollywood is being "honest" they are most likely lying to you.) But who cares about the old haunts and the old nostalgia? Well, it's pretty important actually because the movie sets you up for an assumed happy ending. Which. . . would be incorrect. Or would it? Remind me what happened again at the end of that movie!? hahah. We'll get to that ending in good time my friend.
Quick Overview of La La Land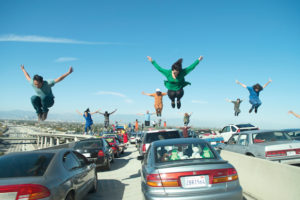 The story is pretty simple. The story follows Mia (Emma Stone), a starstruck dreamer that wants to make it as an actress in Hollywood some day. She even works on the backlot of the Warner Bros. studios. And she would do anything to finally catch a break. It also follows Sebastian (Ryan Gosling), a struggling musician that would do anything to open his own Jazz Bar hot spot in order to bring back the magic years of the city's jazz scene again. Oh, and it's about their burgeoning relationship and where their combined and individual dreams are going. But it is Sebastian's pushing of Mia to really chase her dream that leads her to create a one woman show for herself in the face of getting zero interest in acting interviews. And it's about that time that Mia encourages Sebastian to talk with an old friend of his Keith (John Legend) about joining his band as a real music opportunity that might actually have some legs.
But these two opportunities open doors that are right angles from each other and so the couple begins to see less and less of each other.
And so, when the movie jumps away from it's seasonal format and leaps forward five years we are pretty shocked to find that Mia's a huge actress now. That her one woman show opened doors in Hollywood for herself. That she's now married and has a family without Sebastian. And likewise, Sebastian has his club that he was dying to have from the beginning of the movie. So yeah, this is possibly worst case scenario from an idealistic musical 50's movie standpoint.
So when Mia walks into a random joint and sees Sebastian at the keyboard… reality unhinges for the next fifteen minutes of the movie. And basically the movie replays again from start to finish with an alternate reality perspective of how it could have / should have gone. We see Mia, the first time she sees Sebastian play the piano, and instead of Sebastian brushing her off and ignoring her, he stops and talks to her. And then like that, the two are off to the races. So instead of having an animosity filled, contentious relationship that took off slowly everything moves much faster with them both realizing they don't have a moment to lose. And then together they both take on their dreams and make them happen together, simultaneously.
So their timeline looks something like this:
They meet – blow each other off
Mia bumps into Sebastian working party
Dance together in the street
Start dating
Mia pushes for acting jobs
Sebastian starts touring with Keith
Mia writes one woman show
Mia gets acting gig in Paris
Sebastian purchases night club starts his Jazz dream
Mia gets married, continues acting
Mia has a daughter
Mia and husband stumble into Sebastian's bar 5 years later
DREAM VISION
Mia doesn't bump into Sebastian, they talk
Mia goes straight into acting
Sebastian starts his bar up
They have a son
Live the perfect life they have wanted
DREAM VISION ENDS
Mia's husband asks if they want to stay for another song
She says no…
Sebastian watches her leave, then begins playing again
Mia's Flashback or Sebastian's?
The really confusing part is how convincing the dream was. I was nearly certain that they would have changed time by making the entirety of the movie a flash forward, and then that would give them a chance to correct their mistakes. But instead, it was a flashback, a hopeful flashback, wherein everything was already decided and nothing was changeable.
But the question I discussed with my wife after watching was a simple one. Who's flashback was it? I had originally assumed it was Sebastian's as he was the one that was rude to Mia during that initial meeting, but it was him who changed his entire demeanor for Mia, which was the pivotal change for the entire dream sequence. But my wife assumed it was Mia's flashback because we followed her into the bar, and stayed with her and her life from the beginning to the end. Which, I actually buy. Why does it matter? Well, it speaks to mindset and intention.
If it was Mia's vision, then her "No" to her husband (ie, 'would you like to stay for another song?'), makes a lot of sense because she is not just saying no to the next song, she's saying no to Sebastian and their life all together. She's saying no to the entire vision. But if it is Sebastian's vision, and his regrets, then that's all it is, regrets. Which, isn't a half bad perspective now that I think about it. (Yeah! My idea wasn't half bad – SOTHERE!)
La La Land Ending Explained
The problem with the Disney way of thinking is that it's still entrenched in 1950's happy ending thought. Sure. Sure. We have empowered our 'princesses' to save themselves now. But it's still happy ending tripe. La La Land though has taken the beauty and the pageantry of the 1950's style movies (music, tapping, synchronized story telling via dance and music.) But happy endings are so, they are soo… they are so 1950's. Or something. We know better than happy endings here in the oughts and beyond. We know that the world sucks and so we want our entertainment to reflect that misery.
And so La La Land does. It took the story of two hard charging independent people and told it realistically. We see Mia be successful enough to grab the ear of a studio exec. Could happen. And we see Sebastian be successful to join Keith's band and build a new kind of Jazz. Could happen. We also see two lives torn apart by the independence and solitariness that those lives bring. Really could happen.
Which is why half the audience, while they were putting on their coats, said to their significant other… 'That was WEIRD Henry! What WAS that?' Because they were seeing a reinvisioned and reinvigorated movie style and form for the modern age and a modern audience. Even if it is a more jaded and disenchanted ending. It was an ending that matches with our more unimpressed and disillusioned selves. Whatever you do, do make them independent, smart, and together in the end, because you and I both know that that right there is bull.
No? Not buying what I'm selling. Hey, I'm just one guy over here, trying to help out all you'll out there that can't make heads or tails of that ending. Regardless, this is a great movie.