Oscar season has only become crazier and crazier over the last couple of years. The nature of the Oscar nominations means that not everyone can have one, sure, but overall, the picks this year are extraordinarily disappointing. While the popular vote might be behind musical smashes A Star Is Born and Bohemian Rhapsody, there are a select few films that have been grossly overlooked by the Academy. John Krasinski's A Quiet Place and Ethan Hawk's First Reformed are two such movies that have been unfairly neglected. However, I gotta say, that the ten nominations handed out to Yorgos Lanthimos' The Favourite are certainly well deserved. And I actually found the nominations shocking, especially since the Academy has given Yorgos a generally wide birth.
Obviously a barge full of nominations does not always a winner make, but we are hoping to see The Favourite convert many of these Oscar nods into Oscar triumphs. Seriously, if Yorgos wins in the Best Picture and Best Director slots I'd forgive Hollywood all their past sins. (But I put his odds at winning somewhere around 1 in a 100, if.) And while the Best Actress going to Olivia Colman would mark the next step in a remarkable career progression. Colman has gone from being a regular on television sketch shows and a familiar face in British comedy classic Peep Show to one of the trendiest names in Hollywood. Landing that Oscar would be the perfect realization of Colman's acting success, with her performance as Queen Anne adding depth to her renowned comedic talent. Colman even outshone more established Hollywood stars Emma Stone and Rachel Weisz, although the inclusion of both of these in the Best Supporting Actress category will have fans of The Favourite feeling confident of securing at least one Oscar. (He says with all his fingers crossed.)
I gotta say, that at times, the schizophrenic Oscar community nomination decision process can feel almost like a game of roulette, with its heightened element of chance and the result inspiring love or hate (if you've never known what this feels like, maybe you can try it out on the large number of roulette sites available). In fact, the sheer randomness of some of the decisions often makes it seem as if they've been made by dropping a ball on a roulette wheel, hoping chance will make the choice for them!
Whereas a film like Bohemian Rhapsody has benefited from occupying the winning spot on the roulette wheel, other worthy films have barely seen the ball drop in their favour. That is surely the only explanation for A Quiet Place securing just one Oscar nomination, that for Best Sound Editing (I mean, really? Since when is the LACK of sound groundbreaking? If you want to nominate A Quiet Place for anything, it should, without a doubt be its cutting edge screenplay). Heck, better yet, why aren't we discussing Krasinski's directing, his wife's acting, or even it's place in the best film slot? IMHO, critical response to A Quiet Place suggested that the film had found the perfect balance between conventional horror and artistic invention, but clearly this was insufficient for the Oscar selectors.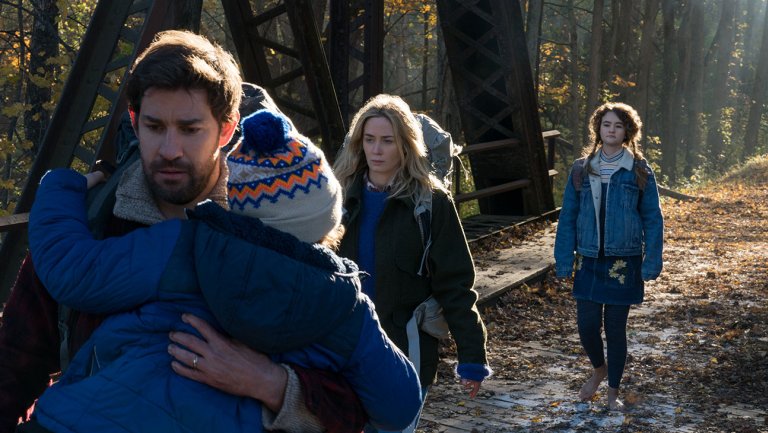 It is likely that A Quiet Place will walk away with the Best Sound Editing gong, a particularly apposite award based on the movie's themes. Yet there is a strong argument that the film deserves much more recognition, an argument that also stands up for First Reformed. As with A Quiet Place, First Reformed is the recipient of a sole nomination: Best Original Screenplay.
I guarantee you that the heavy subject matter denied First Reformed the chance to be a huge blockbuster in movie theaters, but its intelligent direction and Ethan Hawke's powerful performance should surely have been acknowledged at the Oscars. Bradley Cooper and Rami Malek received Best Actor shouts for their work in A Star Is Born and Bohemian Rhapsody, respectively, with both delivering strong performances. However, those performances felt trite in comparison to Hawke's work in First Reformed. Which, I personally believe to be the culmination of his remarkable reinvention.
Seeing as though the movies we discuss here on THiNC. absolutely do not run in the Oscar circles generally, it's still nice to see critical acclaim come in for as many of these brilliant movie makers as possible. I'm betting that Roma will clean The Favourite's clock, but we will have to see which way the votes go. My disdain for super hero movies, and I have to say that I was flabbergasted at Black Panther's nomination. If ever there was a super hero worth nominating, this was definitely not it. And while First Reformed and A Quiet Place may not have received the number of nominations that they warrant, hopefully they will not leave the 2019 Oscars empty-handed.
Edited by, CY