I think it's been a couple years since I've done a gifts for geeks and movie nerds post. This year will be different than the past in that I plan to be ENTIRELY self-serving. Usually I'll throw in a lava lamp here or there, or a Target link to a crazy bidet or something. But this year? These are all things that I have created over at Society6. You may not know it, but I accidentally do better with my society6 posters than I do from advertising on this site. Hahah. I kid you not. (Not that I make a lot with either. But this site is on the verge of having a 7 million visitor year.) Anyway, if you purchase any of the posters, prints (heck, shower curtains) below, it will go towards keeping this site online.
Also, another big way you can support THiNC. and keeping it going is to sign up as a Patreon member. You'll receive a ton of benefits (movie watching Fridays – access to the discord chat server, bespoke movie recommendations, tons of new friends, etc., etc., you get the idea.) and you'll also be the envy of everyone you meet. WAH? YOU ARE A THiNC PATREON?!? OK. Maybe that was a bit far. But you should check it out. Or heck, don't take my word for it, contact me, and I'll put you in contact with other Patreons to chat with about what it's like so you can hear it from them directly.
Alright – without further ado – your society6 Spring bling that will make your significant other's spring come to bloom. Quick comment, every single one of these photographs are REAL. I have spent years researching, and uncovering them, hidden away, in government archives. Godzilla, and King Kong, have been walking the earth for years and years now, and here is the definitive proof: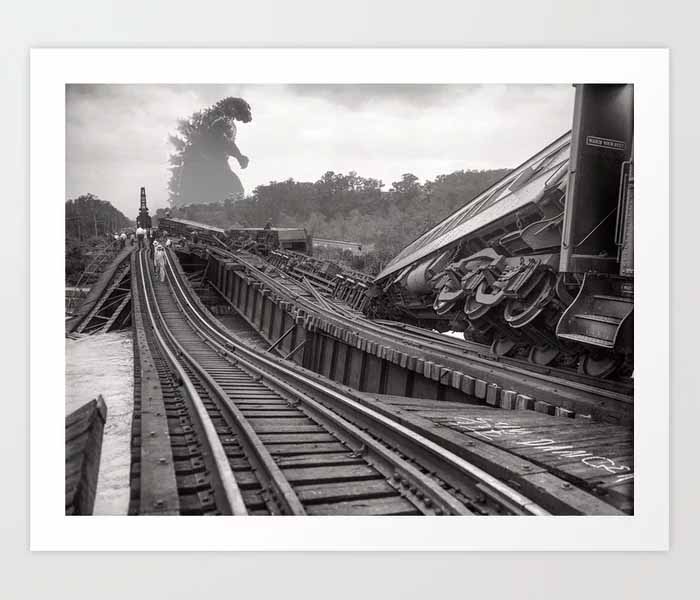 Washington D.C. Anacostia Bridge 1933 Godzilla Encounter Art Print
Back in 1933, Godzilla went for a stroll, coming up out of the Atlantic, and wandering his way up from D.C. all the way to New York. Along the way he caused mayhem and carnage, though, apparently, none of it was intentional as he wasn't engaged by the local authorities, and he soon disappeared once he reached Canada. (I've long suspected the Canadians have given him safe passage and sanctuary, though I'm not exactly sure why.) The print of this historical photo is available in a million different formats.
Art Print | Posters | Framed Print | Shower Curtains | iPhone Cases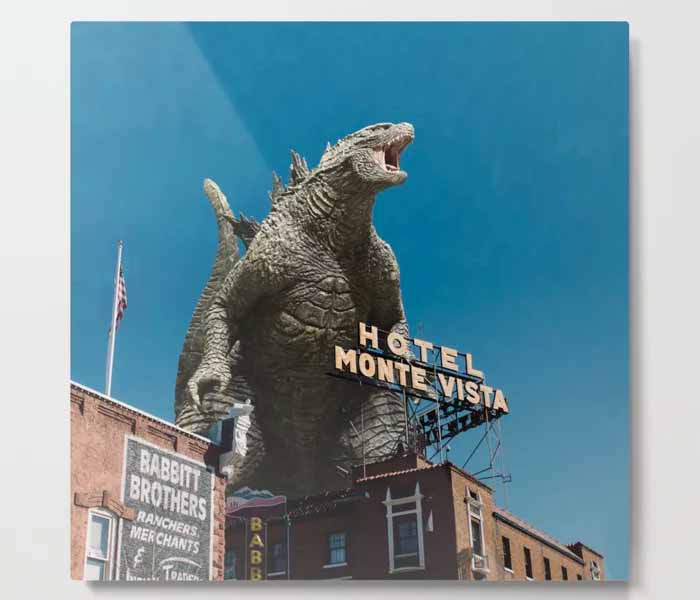 Godzilla Visits Heart of America Metal Print
The family that snapped this photo – well, they took the photo just before the large Hotel Monte Vista signage was chucked their direction by the extraordinarily angry Godzilla. Apparently, the local police turned up and began firing shotguns and sniper rounds his direction, which generally only makes him angry. And now this poor family is gone. But in the wreckage of the day, the camera was found and we are left with this amazing photo to commemorate the encounter. The photo can be had a billion different formats, sizes, and products:
Metal Print | Wall Art | Art Print | T-shirts | Stickers | Notebooks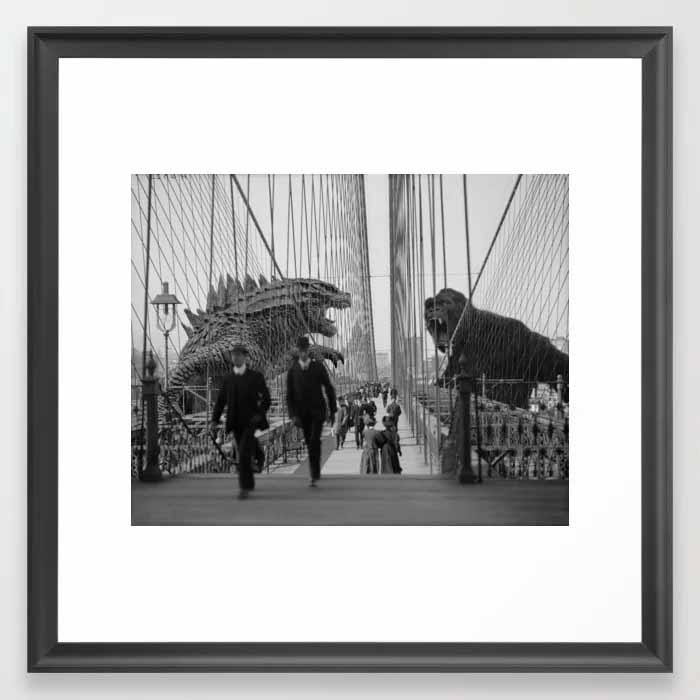 Godzilla vs. King Kong 1903 Framed Art Print
1903 was the real rumble in the Bronx. It was then that Godzilla and King Kong had their paths cross for one of the first times. While the Brooklyn Bridge was built in 1869, not many know that it was rebuilt in 1903 after this encounter. I know right? Huh, who knew? But can you imagine it staying up long after this photo was taken? Yeah, me either. This archival photo is available in a variety of commemorative formats:
Framed Print | Rugs | Wall Murals | Wall Tapestries | Wall Clocks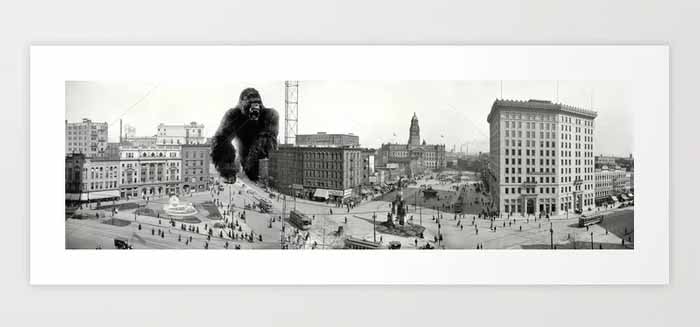 King Kong in Detroit 1907 Art Print
Back in 1907, Detroit was the recipient of an exciting visit from the King of Kongs. Surprisingly, not a single building was destroyed. And not a single person was killed. It was recorded that one trolley was knocked off its track, but we aren't certain that was caused by King Kong, or whether it was operator error. But it is recorded that Kong put on quite a show for the town as he waltzed from one side of town to the other before disappearing out into the mist again. Check out the different formats this print is available in:
Art Print | Tote Bags | T-Shirts | Travel Mugs | Metal Print | Canvas Print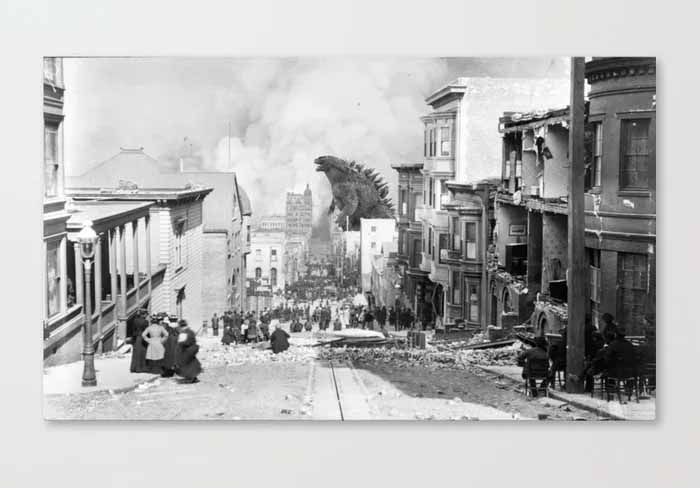 Godzilla San Francisco Canvas Print
Back at the turn of the 20th century our history books tell the story of a massive earthquake that rocked the San Francisco area. What the history books don't tell you is that a visit from Godzilla was the cause for the quake. Here in this gloriously restored archival print we see the real reason for the devastation. Today, you are able to own a magnificent print of this encounter in order to let all your friends know about what really happened. Don't want a wall print of this photo? No problem, we have a myriad of different formats for you:
Canvas Print | Coffee Mugs | iPad Skins | Framed Print | Pillows
---
There are many many more Godzilla and King Kong archival, beautifully restored, historical, prints available as well, over at my Society6 Gallery. Take a moment and check them all out. And remember, all the proceeds from every purchase will go back into keeping THiNC. going. Heck, maybe you don't like THiNC. – spend enough and I may even shut it down for you for a day or two. I'm open to pretty much anything! hahaha. Happy Spring celebration everyone, and thanks for checking out these historical photographs I've discovered!
Edited by: CY