Maria Full of Grace Discussion and Movie Recommendation
I am going to start this write up with an apology. Years ago, I created that red tab at the bottom of your screen in order to let you guys make movie recommendations that I should watch and talk about here on the site. And over the years, it's done a lot of traffic. Maybe a couple hundred movies I've discussed here on the site have come through that little red tab. But lately? Sorry, folks, I've mainly been taking all my recommendations from the Patreon community. (Quick plug, which, if you join now, for a limited time, I will do THREE movie recommendations for you for the price of one. (Sort of a joke. But heck, if you sign up for Patreon today, I'd be your Huckleberry… so there's that.) ALL THAT TO SAY, today's movie recommendation is coming from the recommendation widget from Jessica. So, THANKS JESSICA!
If you haven't seen it yet – here are a couple ways in which you can watch it today:
Maria Full of Grace Discussion and Movie Recommendation
Maria Álvarez (played by Catalina Sandino Moreno – who you might know from A Most Violent Year) is a seventeen-year-old who spends her days in a hellish sweatshop working in a floral plantation. But we quickly learn that her family (specifically her unemployed sister who is a single mother) desperately need her income to survive. But after she becomes pregnant, and becomes fed up with the way her boss treats her after throwing up, she quits her job. Deciding she needs to move to Bogotá in order to find another job – traveling to the city, she is offered a job as a drug mule. Desperate for any sort of work, Maria accepts the job.
Soon after accepting the offer for the job , she is told to swallow 62… Sixty two pellets of drugs. That is a lot of overdose if they crack open. Talk about stress. She and Blanca fly to New York where things really start to get dicey. Almost getting caught by customs – she has to navigate the suspicious police that are certain she's up to something when they find the $800 on her. And then, when they let her know they are going to X-ray her to determine for certain if she's telling the truth, she evades that disaster by telling them that she is pregnant. Tension! Regardless, after dodging capture by customs, the duo, joined by Lucy, a mule who has done this a number of times before, get picked up by the traffickers. The trio are stashed in a motel until they pass every last drug pellet. Talk about awkward. But when Lucy gets suddenly sick, its apparently as a result of one of the pellets breaking inside of her. Man, worst case scenario. Jump cut, Maria misses a few details, but we can piece together that Lucy is being carted out of the motel room, and the blood in the bathroom is where they cut the drugs out of her. Not exactly a great career opportunity apparently.
So, Maria tells Blanca that they have to run for it while the traffickers are dealing with Lucy… so they snag the drugs they've already passed, and they run for it. With nowhere to go – Maria heads to Lucy's sister's house, but she doesn't tell her sibling what has happened to Lucy. After Blanca arrives, Lucy's sister hears how the two were involved in her sister's death, and she kicks them out of the house. With nothing else they can possibly do, they decide they need to return the drugs to the traffickers, it's their only way that they will be able to sleep at night, otherwise reprisals could come at any time. Maria and Blanca head to the airport and prepare to board the plane to go back to Colombia, when Maria decides she can't go back… that she is going to stay in America. And Blanca decides she has to go back home without Maria.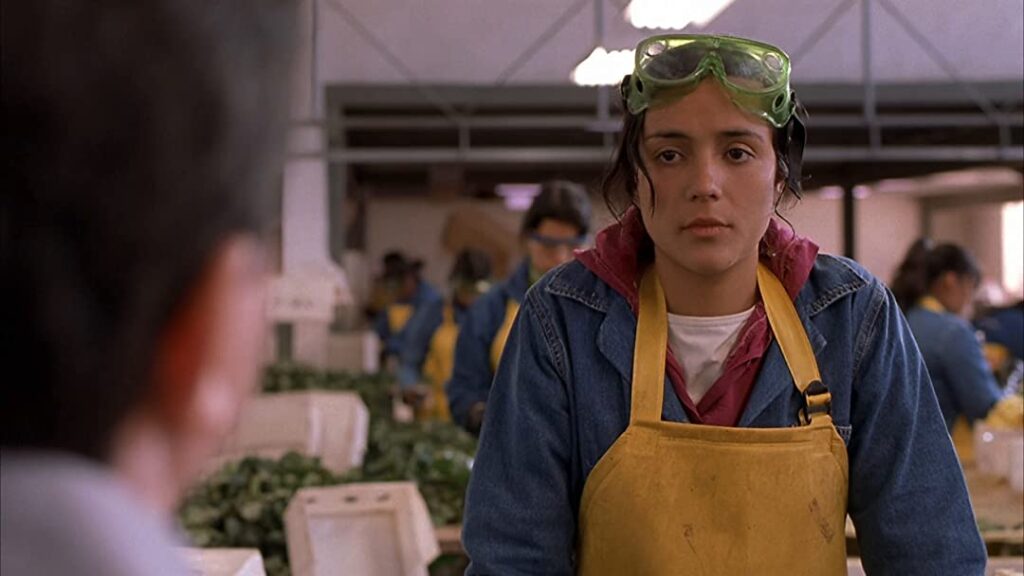 A Few Thoughts on Maria Full of Grace
First thoughts on this one… I really enjoyed the story, and chaos that permeated the film. But the ghost in the room is the name of the movie. Maria… Mary. You know, like, Mary the Virgin Mary? The mother of Jesus? She too is pregnant, alone, unsure of what to do. Maria Full of Grace… definitely rings better than, Maria full of drugs, I'd say. So it's interesting that we have a story about a woman who is beaten down by society. She's taken advantage of by a rose sweatshop. She's then taken advantage of by drug traffickers. And her family has already made it clear she has to tow the line, allow these control factors in her life, to win.
But Maria decides she's had enough. She's decided she is going to figure it out for herself, and she's going to go her own way. She is pregnant, her boyfriend doesn't love her, and so she'll make her own way. Which includes running from the drug traffickers who are so far gone that they are okay cutting the drugs out of a human to get their money. So, she takes the drugs, she decides she's not returning back to a life of subjugation, and she is going to carve her own way.
The saddest part about this movie is that the movie is real. There have been countless humans who were used as physical shipping containers for drugs in an attempt to make millions. Many have died in the process and all for some deeper greed. And all Maria wants is to be loved, and to love in return. To take care of the child she has growing within her and to see if she can't carve a bit of a new life somewhere different.
Edited by: CY