Uber Beer Selection Flow Chart
So, sometimes when I walk into the liquor store I am like a monster shoving women and children out of the way to get what I want.  That particular beer has been on my mind, and I know exactly what kind of a mood I am in.  Tetley's dammit.  Out of the way.  I'm getting my Nitro laden goodness and I'm getting it now.  But other times I have no idea.  I'm just a ship adrift.  I wander from the ciders to the IPAs and back over to the stouts and around to the pales.  Its on days like that I wish I had this handy flow chart for helping to decide exactly the right type of beer… at least the right section of the store anyway.
Mike Newman, editor at Cool Material, recently released an uber awesome flowchart to help us mere beer mortals exactly what style of drink to purchase on days like this.  Here's Mike talking about why he decided to pull the flow together:
It wasn't long ago when liquor stores carried five or six different beers. A couple of U.S. heavy hitters and maybe an import or two. Times have changed. Walk into your local booze shop now, and you'll be greeted with shelves of interesting brews. So how do you decide what to drink? While there are countless beer styles, we choose a handful of popular ones and decided to help for when you're trying to pick a beer for the day.
What's funny is, when I first saw the chart I loved the decision selection criteria.  I loved the solidity and logic of the flow.  But when I hit some of the selections I had NO IDEA what some of them were.  I love a good beer… but that doesn't mean I actually know what I'm drinking.  I obviously know the types where its WRITTEN DIRECTLY ON THE LABEL.  But outside of that, no idea.  So I decided to research some of the types that he'd listed and drop in my own recommendation below the type just to give you a good starting point.  So at the bottom of Mike's flow, are my recommendations.  Obviously this is very subjective and random.  But maybe it'll give you a starting point within the section to begin from.
I don't think I'll comment on each of my choices, but I will say that you should just stay away from American Macro Lagers all together  Miller.  Coors.  Bud?  No thank you.  But I will recommend Heineken.  I rediscovered it while touring the plant in Amsterdam and absolutely fell in love with its light crisp flavor.  So, do us all a favor and just bypass Pabst and the Schlitz.  And head for the light green bottle instead.   Saw this awesome Venn Diagram detailing out my feelings exactly while researching and thought it said it better than I could.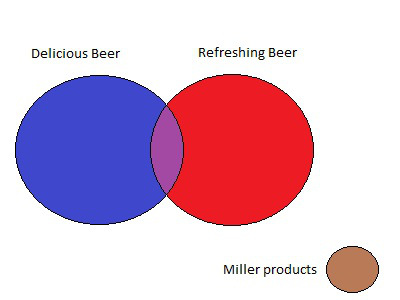 My own personal favorites are in the Pale and Stout sections.  I find myself hovering there quite regularly.  Left Hand Milk Stout, Tetley's, Boddingtons, Imperial, etc etc.  But some days just require a light beer, or a hoppier offering.  So I plan to use Mike's awesome list going forward to help direct my thinking in a little more targeted way.  Good on ya mate!