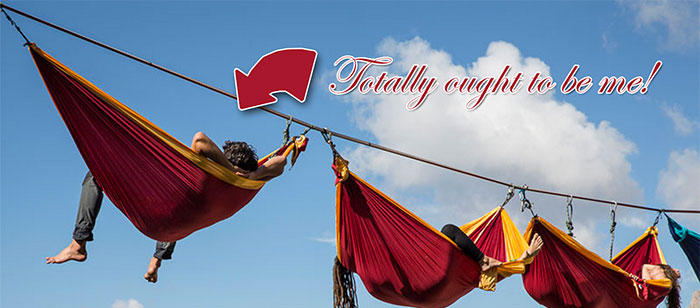 Hammock Session Bucket List in the Dolomites
Woah.  Ok, so I've been aiming really really low with my bucket list items these days apparently.  A trip around the world (which I will be doing again in a week)?  Bah.  How week is that?  Reading War and Peace?!?  HAHAHa.  Rediculous.  That is nothing in comparison to this particular Bucket List item.  So, on September 9, 2014, almost two dozen people came together and decided to do a little extreme hammocking in the Dolomites of northeastern Italy.
This special set up was rigged with 1,000 kg of pre-tension and reached 2,350 kg of total work load after 22 people in 16 hammocks volunteered for this epic session… The setup was a 50m (164 ft) double line with two additional static ropes (double double) as a back up + a load of anchors on each side. Force measurement was done and monitored live.
Photographer Sebastian Wahlhütter was on hand to capture this amazing event and allow the rest of us to stare agog at this amazing setup.  The events which took place on Monte Piana allowed these twentytwo nutjobs a chance to chill out thousands of feet above the valley below.
Can you imagine?  There was some guitar playing and some book reading.  But I can guarantee you there wasn't any sleeping going on.  Me?  I'd yodel.  heheh.  Seems like a fantastic way to spend the day.  Friends, a cigar, and a view that just doesn't stop.  Amazing.  Here are a few more shots from the day to you get your own agog on with.  If they don't blow your mind, you really ought to reprioritize your life.  Just saying.