Last Updated on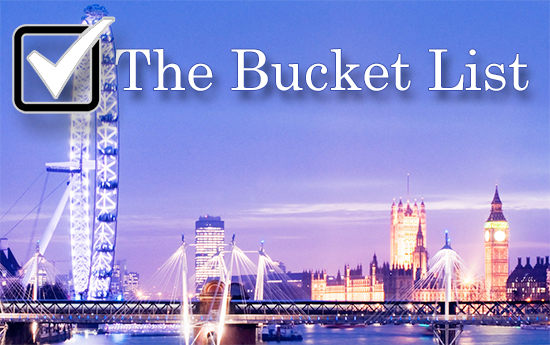 One of the top items on my Bucket List – Around the World in Seven Days – is going to happen…
I have a bucket list of things to do before I die. I'm sure you do too. Some I've done. And some are currently laughing me in the face. Taunting me even. You know what I'm talking about here… right? Just staring at you and giggling hysterically.
I have never really kept a physical bucket list, but I have been running one in my head for years and years. And I have even become fairly obsessive about it. Like my attempt to reenact as many scenes out of Ferris Bueller's Day Off as I could while attending school in Chicago. Or skydiving, for which I sat on a runway two days in a row… all day… waiting for the skies to clear. Yeah. And now I have kids. I should just go. I'm gonna go, I'm gonna go, I'm gonna go…. GAH! He'll keep calling me… and calling me… and calling me… (sorry, lil quote from Ferris there. I can get quite tangential at times if you don't know that already.)
So, to give you a bit of a feel for what kind of bucket list we are talking about here I've listed some of the things I've already accomplished as well as a few of my super secret unaccomplished items:
Accomplished:
Live abroad (England)
Learn to juggle and unicycle
Marry a trophy wife (totally joking sweets)
Write a book (thank you NaNoWriMo & my muse)
Go whale watching
Travel Europe
Go scuba diving (Kauai & Puerto Vallarta)
Travel south of the equator (Peru)
Have kids that look more like their mother than me (phew)
To become an uber geek like Matthew Broderick in War Games
To write a blog that is viewed by more than 4 people a day, yay you!
Get a tattoo
Volunteer in the 3rd world
Work on Capital Hill (Senator Grassley – wasn't all that.)
Visit Greece
Learn to ride a horse (Thanks to my wife)
Attend the Olympics (LA, 1984)
Sleep in a castle (BOOM! Lived in one.)
Unaccomplished:
Adopt a child (working on it!)
Visit Australia… grr.
Visit Switzerland on Swiss Independence Day
Sky Dive (dang you clouds!)
Become fluent in a language (dead languages don't count!)
Ride in a Hot Air Balloon
Visit all 50 states (47?)
Solve a rubik's cube in under five minutes (heck, I'll take a day.)
Learn to fly a plane (I've flown one, does that count?)
Visit Germany for Oktoberfest (Does Epcot in October count?)
Go on a cruise (this gets added and deleted regularly…)
Did I mention sky dive yet?
Buy a crotch rocket (Like this one.)
Have ANYTHING go viral. Youtube, Blog, iPhone App (more on that later), etc.
Get a doctorate (bah.)
Juggle Five balls for at least a minute (42 seconds is my record.)
Work for a clandestine organization (Or have I already? Hrmmm.)
Get a grand slam in bridge (Carolynne has though, well done!)
To take a random flight to a random location for a random day of fun
So you get the idea. What bucket list items should I add to my list? What am I missing here? I really wasn't intending to turn this into a bucket list posting – although that has been fun. I mainly wanted to highlight a Bucket list item that was going to fall in a week or so that I've been dying to do for years.
I want to circumnavigate the globe.
And because I'm a bit of a stickler for the rules – but that I mean, to go —–> that way, and not stop until you are back where you started. Starting the 12th of January 2013 (I say this for those of you who show up here 6 months from now when Google gets its SEO crap together) I will leave from Denver and head west for a week until I am back in Denver again. Its work related, so it won't be the romantic ideal that you probably have in mind. But even so, the goal will be achieved. Here are the travel points along the way (These were updated to match our actual travel destinations:
Denver U.S.
San Francisco U.S.
Seoul Korea
London England
Amsterdam Netherlands
Frankfurt Germany
Amsterdam Netherlands
Houston U.S.
Denver U.S.
I think its technically 8 days, but with the zig-zagging across the international date line, I'm not sure how to do that math. So, I originally thought that I that as I go (will go, have been going, have wenting?) I would post, but that was nuts. I literally slept 4 hours a night – my mind thinking that each sleep episode was a nap – and spent the rest of the time working and traveling. It was one for the books. I don't think I recommend doing an around the world trip in one week. But it was definitely worth saying I've done it! hahaha.

Denver, Colorado:
DIA was the second best airport we traveled through. Incheon being the best – but that shouldn't surprise anyone seeing as though Incheon was the best airport in the world for 7 years in a row.

San Francisco, California
The best weather in the world we experienced was right here in San Fran. Oh my gosh. We didn't want to leave. Saw the Golden Gate Bridge… and the city… from 5,000 feet as we flew over! haha. My second time in San Fran in six months. Both times for work. So it really doesn't count.

Seoul, Korea
Wow. Seoul. Gangnam anyone? Bridges? Rivers? Korean food? Holy cow Korean Food. Tons and tons of Korean Food. Work-wise this was the best leg of our trip. Very very helpful. Learned a ton. And the city was out of control. I'll try and post some photos from my phone once I get off my butt.

Frankfurt, Germany
Landed in Frankfurt after 18 hours of travel. Left at 6 am in Seoul and arrived in Marburg at 11pm local time. That made that day a 33 hour day? Three flights. Three border crossings. Three passport stamps. I saw more automatic weapons than I'd really like to say I saw. The castle and cathedrals in Marburg were amazing. The town was to die for. Loved just wandering the city. Man I love Germany.

Amsterdam, Netherlands
I think we were in Amsterdam 24 hours? I can't even remember now. Had a great time wandering the city streets Friday night. The pomfreits and mayonnaise were out of this world. The canals. Never mind the hotel from the 23rd century. I love Amsterdam.

London, England
London got nixed from our agenda very late. We went through London – but weren't able to stay over night like we thought we could. Which was a real crying shame seeing as though its my favorite city in the world. But ah well… with 8 days around the world… something has to get cut.

Houston, Texas
Bah. Houston was awful. Long passport control lines and chaos. If you live in Houston, I'm sure its a fantastic city. I just didn't like it much.
And there you have it. The around the world trip in a single blog post. Have you done an around the world trip?
[print_gllr id=1864]