The Lobster is a strange and dark commentary on our society's disdain for single people.
IMDB
The Lobster Movie Ending Explained
So I was not a fan of The Lobster. And I get avant-garde, I love weird and different approaches to movie making. I really did think that The Lobster would be a slam dunk for me. But it hit a nerve for me that turned the nightmare factory into overdrive. Like, really really bad dreams. And I think I know why. (Trust me, I'll get to the ending explanation here soon enough.) I grew up in a Christian home and participated in the evangelical Christian sub-culture with all kinds of vim and vigor. All that to say, back in the 80's, there were roaming movie showings of something called The Thief in the Night series… and they were terrible. Terrible in every sense of the word. Here… this should give you a taste of the horror that was the Thief in the Night series. Regardless, watching The Lobster for me was much like watching one of these Christian 80's rapture terror movies. Very very unsettling.
If you haven't watched the movie yet, watch it online with one of these online service providers right here:
But that isn't why I'm writing this post. I want to basically do an overview on the world of The Lobster, and then dive into the ending and what happened. Because I'm sure there are like a million of you that hit the ending and were like, wait,…. wait,…. WHAT?! And I love "Wait, WHAT" endings, even when I hate the movies that contain them. So yeah, it goes without saying that this post is just for people that have already seen the movie. Ok? So here is a trailer to give a bit of separation between you and the spoilers further below. It may actually even entice you to watch the flick? Who knows.
The Lobster World Explained
Before we can get to the ending, I think we need to sort of talk through what the heck is going on in this world. It actually is simple enough. It is a crime, punishable by death (of sorts) to be single. If you were in a relationship, and your spouse dies, or divorces you, you are then sent to a hotel that doubles as a singles detainment center. Think of it like a rehabilitation center. Or maybe a detention center that works to rehabilitate single people.
While there, the single people are forced to participate in coupling exercises of various types. They are also subjected to Public Service Announcements about how terrible it is to be single. You might be raped. You might become depressed and commit suicide. Etc. While at this rehabilitation center they are also sent out to hunt the woods for random single individuals.
Who are these people they are hunting? Simple enough. As we learn when David, (Colin Farrell's) character decides to make a run for it, the single people that are hunted are escapees that have hidden in the woods. These singles work hard to stay single and remain free. They also are punished quite severely when they do couple up as it is against their mantra and raison d'être. So when David hits it off with Short Sighted Woman (Rachel Weisz's character) we know that there is some serious repercussions coming.
The Lobster As Social Commentary
Although I hated the movie, I loved the commentary, and what it says about our culture. Single people probably hate the condescension and belittling that all of society lever at them day in and day out. If you are single, you are a failure… right? Maybe society is getting better at not saying that to singles. But I doubt it. (I would love to hear from some of you older singles to hear if maybe it isn't all that bad? But I don't think we'll get many even saying anything as they'd have to open up in order to even comment.)
So as a reminder to quit being a dork to single people, I really appreciated the movie. But the blackness of the comedy scared me physically senseless. Like to my core. No Stephen King book has ever scared me more deeply than this movie. Which brings us to the ending. In this world of singles trying to couple, and couples trying to catch singles, and singles trying to catch attempting couplers…. what was that ending all about?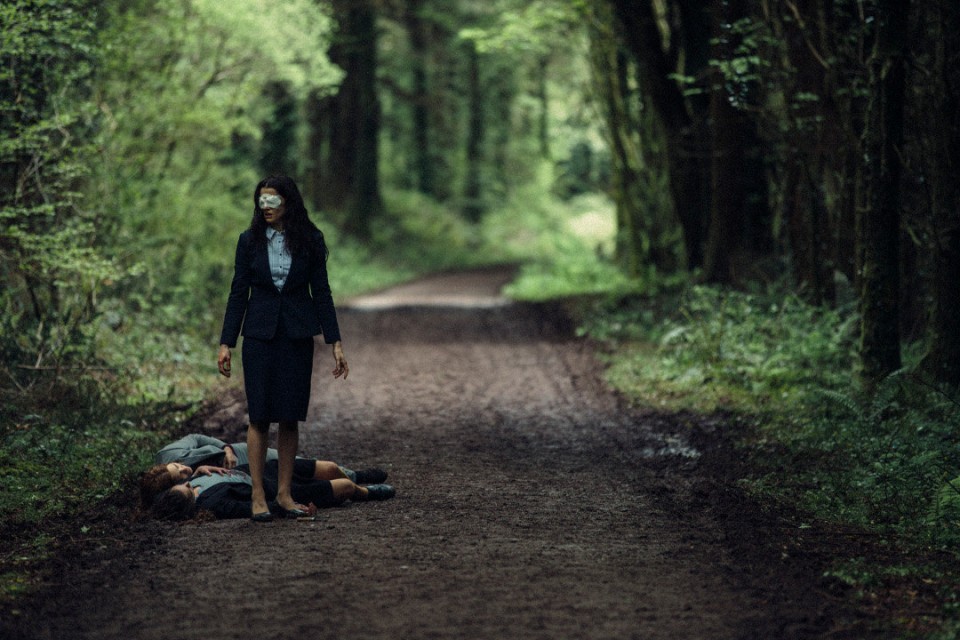 The Lobster's Ending Explained
One of the key details I intentionally skipped over was the idea of the "Identifying Characteristic". In the movie of The Lobster Identifying Characteristics are used as Nom De Guerre's or Nom De Plumes… they are how these singles are known. And it is these characteristics that will get you your eventual significant other. Right? So, if your identifying characteristic is a limp… then please, DEAR LORD, there better be someone else at the hotel checking in with a limp as well. "What about her? She has a limp", "No, it's just a sprained ankle, I already checked, it'll heal." Which makes quick work of the thickness of these dating sites and our own thickness when we match our single friends up. But you like X-Files… She likes X-files… what happened?
But these identifying characteristics were critical for our leads in that they were critical to their getting together while in singles land in the wood. These two both had Short Sightedness as their identifying characteristic. Which, plays an enormous part in the movie as it progresses. Not just in a spat of Jealousy for David, but also in how David and the Short Sighted woman identify themselves as a couple.
When the leader of the singles decides to take retribution for their relationship she does so in the worst possible way for the two. She takes Short Sighted Woman to go have her eyesight fixed. Right? Which is bad enough. But instead of just fixing her eyesight, which would have been nearly fatal to her relationship with David, she has the optometrist blind her instead. This does two things simultaneously. It ruins her relationship with David. They now have nothing in common. (See, that black comedy again.) And secondly it incapacitates her – which is critical in that her ability to survive the hunt each day will be nearly impossible. (As an aside, did you understand that the singles hunt the renegade singles? And when they are shot, they are shot with a tranquilizer gun, and then they are turned into an animal, right? You understood that was what was happening? I wasn't 100% sure myself until I read more about the hunt after I finished watching the movie.)
Now we are coming to the pivotal moment – the ending. So the Short Sighted Woman is now The Blind Woman not the Short Sighted Woman. Then we see David (the Short Sighted Man) and The Blind Woman at a restaurant and David says to a waiter walking by, "Can I have a fork and a knife, not a butter knife, a steak knife." He is trying to decide whether he should gouge out his eyes with a fork, or with a steak knife. Right? Before David goes, The Blind Woman tries to encourage him by saying how much more heightened your other senses will be, etc. And David heads off to the bathroom.
There in the bathroom we see David raise the knife to his eye, and the camera cuts away. And then we see The Blind Woman sitting and waiting, and waiting, and waiting.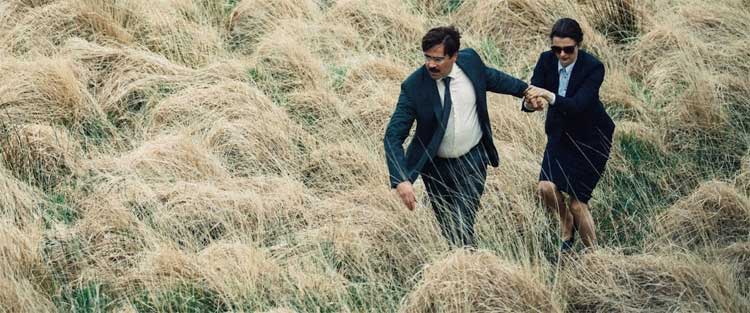 Theories About the Ending of The Lobster
So what happens next? With this movie the options are super super simple. So simple in fact that Colin Farrell even spelled all three out for us in an interview this past June with Entertainment Weekly. I'll let him explain the options, he does a better job with it than I ever would:
EW – "But…does he do it?"

Colin – "Honest to God, part of me thinks he does it. Then part of me thinks that when the camera cuts back to Rachel Weisz, I'm already in a f—ing Uber, heading down the road as fast as I can. And part of me goes to the third option."

EW – "Which is?"

Colin – "That he doesn't do it but he goes back to her and tells her that he did. There are so many different options."
To recap, we have three fairly basic options on the table here.
Option 1. He does it. He gouges out his own eyes for love, and they make a life for themselves among the land of the couples finally. This is your Disneyland fairy tale option. This is the option for all you optimists out there. All you really really twisted optimists out there that is. hahah.
Option 2. He doesn't do it… he books it as fast as he can as soon as the camera peels away. This is the option for all of us cynics out there, those of us that prize our eyesight above love. We are terribly lonely and cynical people, us Option 2 people.
Option 3. This one? This is the richest and most brilliant of options. Not only does he not do it, but he goes back and tells The Blind Girl that he did do it. That he did gouge out his eyes. He lies to her through her teeth. This is the sickest of all options, but the most clever of all three by a factor.
But which option is it? Which one did he actually do? Well, it sort of depends on your perspective on the world. But I have some pretty good evidence that causes me to think that there was one specific theory that wins out over the other two.
Remember when The Short Sighted Girl first learns she's been blinded? She realizes what has happened to her… what does she say? She said something to the effect of, "Why did you do it to me? Why not him?" Remember that? I think this shows that this idyllic fairy tale, this wonder happy blissful love is flawed and failing. It reminds me of the relationship David had temporarily with Heartless Woman and how he played himself up as the cruel counterpart to her hostile self. He eventually is called out as a fraud and the relationship dissolves… with great pomp and circumstance.
Also, if it really was love, true love, wouldn't she have said, you know what, sucks that it was me, but keep your eyesight, our relationship is bigger than the stereotype that society places on top of us and our relationship. Two very different people can be in love, and it doesn't matter that our identifiable characteristic is no more. But alas, she holds him to it – this social (and screwed up societal conceit) contract that in order to be a couple they have to be the same.
And so I personally believe that David brought the knife to his eye, had a moment of clarity… realized she doesn't love him anymore than he loves her. That he'd be better off without her, jumps in the nearest Uber and bolts. No? You? What do you think happened at the end? Are you an Option 1 guy? An Option 3 gal? Why? What did you see in this mind job of a movie that I missed with my eyes closed for half of it? Shout out your opinions in the comments.
Edited by, CY
Where to watch the lobster