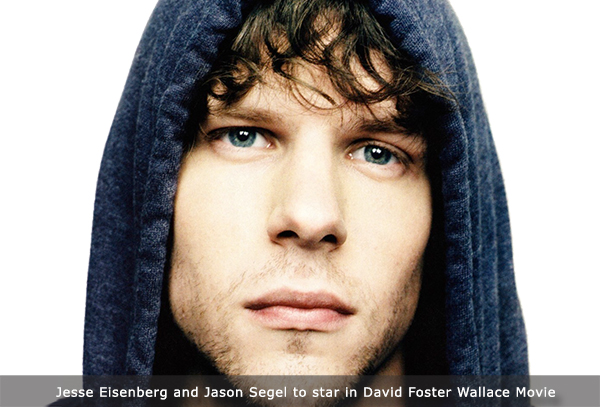 Jesse Eisenberg to Star in David Foster Wallace Movie

If you know me at all, then you know that I personally believe that David Foster Wallace is the greatest author to have ever walked the planet.  I am not kidding here.  I believe this so strongly that if you were to weight the authors of the world throughout history Wallace would be a perfect 100 and the nearest competitor would be somewhere in the 80s.  HERESY, I hear you saying.  Whatever.  Read the Infinite Jest and then get back to me.  Then we can talk.  Then you can bring your flimsy Jane Austen novel and we'll talk.
So, back before Wallace became famous with Infinite Jest David Lipsky joined DFW on his book tour for about a week. The original idea was to write an article for Rolling Stone, but the idea never panned out. The magazine chose not to go with the article. Or Lipsky chose not to write it. I'm unclear on this point. But after David Foster Wallace committed suicide back in 2008 Lipsky took the recordings from the tour and all but directly turned them word for word into a book that reads more like a screenplay than a book. Funny that… because someone else thought it sounded more like a screenplay, because now it is one.  Here is one of the more profound sections that I highlighted about 42 times in my copy of the novel:
"David Foster Wallace: I think the reason why people behave in an ugly manner is that it's really scary to be alive and to be human, and people are really really afraid. And that the reasons…

That the fear is the basic condition, and there are all kinds of reasons for why we're so afraid. But the fact of the matter is, is that, is that the job that we're here to do is to learn how to live in a way that we're not terrified all the time. And not in a position of using all kinds of different things, and using people to keep that kind of terror at bay. That is my personal opinion.

Well for me, as an American male, the face I'd put on the terror is the dawning realization that nothing's enough, you know? That no pleasure is enough, that no achievement is enough. That there's a kind of queer dissatisfaction or emptiness at the core of the self that is unassuageable by outside stuff. And my guess is that that's been what's going on, ever since people were hitting each other over the head with clubs. Though describable in a number of different words and cultural argots. And that our particular challenge is that there's never been more and better stuff comin' from the outside, that seems temporarily to sort of fill the hole or drown out the hole.

Personally, I believe that if it's assuageable in any way it's by internal means. And I don't know what that means. I think it's fine in some way. I think it's probably assuageable by internal means. I think those internal means have to be earned and developed, and it has something to do with, um, um, the pop-psych phrase is lovin' yourself.

It's more like, if you can think of times in your life that you've treated people with extraordinary decency and love, and pure uninterested concern, just because they were valuable as human beings. The ability to do that with ourselves. To treat ourselves the way we would treat a really good, precious friend. Or a tiny child of ours that we absolutely loved more than life itself. And I think it's probably possible to achieve that. I think part of the job we're here for is to learn how to do this."
James Ponsoldt (Spectacular Now and Smashed) is set to direct the new movie. The book was turned into actual screenplay by Donald Margulies (Dinner With Friends, Once And Again).  The movie has the potential to become a dialogue rockstar.  So good, it could completely darkhorse it to first place on my best dialogue movies of all time post.  If you think Social Network was good?  Just the book's rendition of the dialogue was extraordinary.  Put Eisenberg and Segel in here and this thing could go straight to the moon.
Lipsky's book is called "Although Of Course You End Up Becoming Yourself: A Road Trip With David Foster Wallace" and is an amazing read. Not just is it a curious format, as it is mainly just rolling dialogue, with DFW espousing thoughts and opinions on pretty much anything by both authors. And it even becomes quickly clear that Lipsky is enormously jealous of DFW… as should ANY writer with a brain. So the dialogue is combative, barbed, humorous and deeply profound all at once.
So it would seem that Jesse Eisenberg and Jason Segel are attached to star in the movie. Apparently the movie will be called "The End of the Tour," multiple individuals familiar with the project have confirmed. Segel will play David Foster Wallace, while Eisenberg will play Rolling Stone reporter David Lipsky.
Apparently the movie will follow the flow of the book as Lipsky was accompanying Wallace across the country on a book tour promoting "Infinite Jest," just as Wallace starts to become famous. Production is tentatively scheduled to begin in February/March.
Jesse Eisenberg and Jason Segel are attached to star in Anonymous Content's "The End of the Tour," multiple individuals familiar with the project have told TheWrap.  Eisenberg will play the roll of Lipsky, the interviewer.  And Segel will play the part of David Foster Wallace, the interviewee.