UCSB Cylinders and Ancient Audio Fixations
I love this post. (Not to pat myself on the back or anything…) I've been enjoying this one so much I've been reticent to release it to you all. Almost reminds me of the time I took a pile of old New York City photographs and went searching for the current locations to compare them to. That was a fun one as well.
Anyway, I've been playing with a ton of audio lately. No idea why. Seems to come in waves, fits and spurts. Just the other day I brought you an app in the app store called Acapella which blew your mind – and if it didn't, it's just because you chose to be a loser and not go and get it. (I'm not even going to entertain the option that you didn't even read the review… cause, ya know.) But today, I have audio of a totally different sort to bring to you.
So, not to time capsule on you a bit here, but before the MP3, there was the CDA which ran on CDs. Before CDs, we had cassette tapes. Which were fun to twist, and then listen to all your favorite music backwards with. Before the cassette tape were 8-track tapes (I hear anyway, I'm reciting myths and legends at this point now) and before 8-track tapes was the record player.
Now for me… that was the entire recitation of all audio history technology. Obviously there were midi files and computer generated music and what not. But from a barebones standpoint that was it in my mind.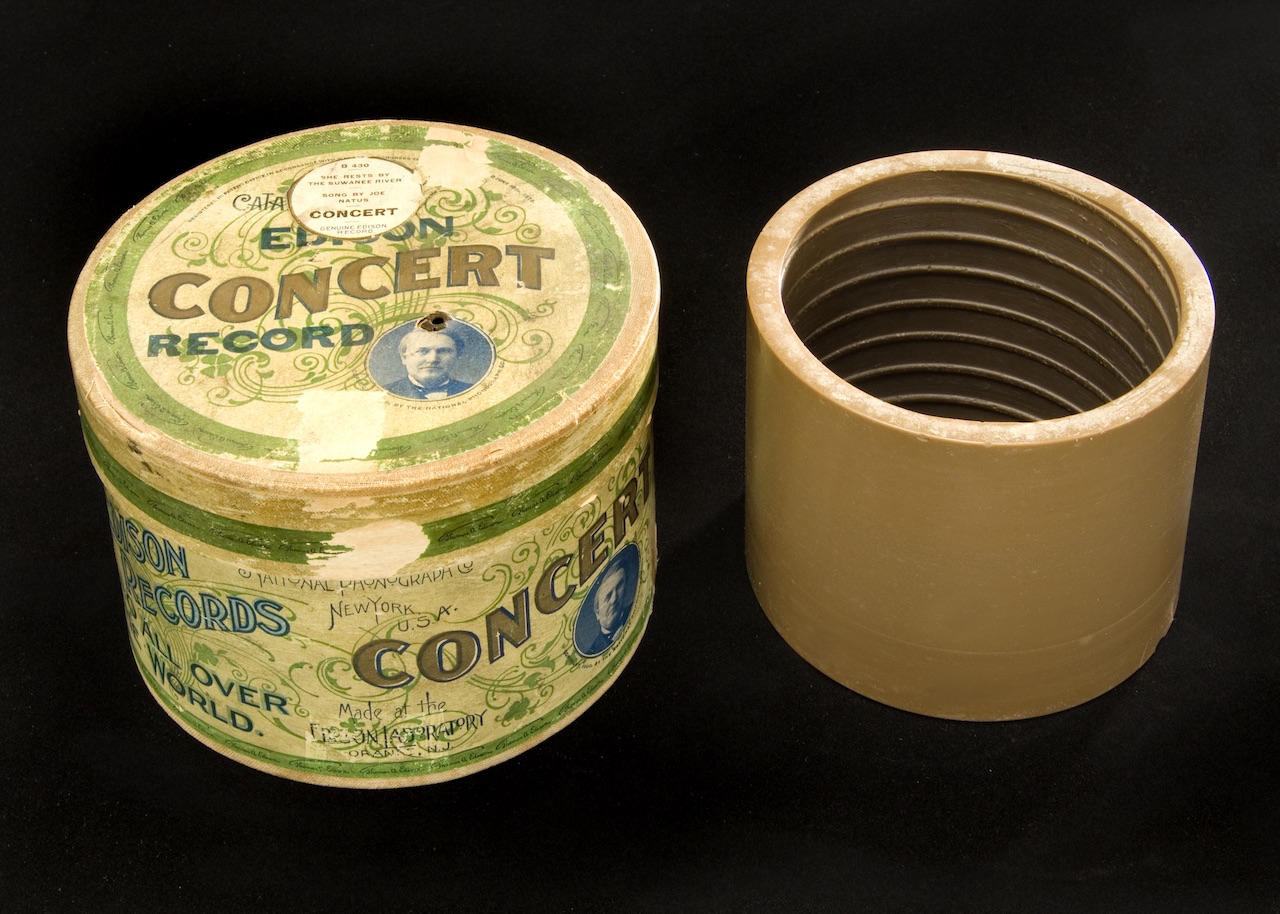 But I found out a couple weeks ago, before the record player there was one other methodology that I'd never heard of called the cylinder. Basically predated the record, and was a record… sound vibrations were etched into the wax, tinfoil, aluminum, or whatever medium and then played back over those same sound waves through a horn for audio magnification. And let's be honest, the technology is obviously crass, and the capabilities of the medium lacking. But from a time portal standpoint – these cylinders are like riveting in my mind.
So, to be clear, Edison was one of the originators of this technology. Let that one sink in for you. He was so famous in this space that he even had an audience with President Hayes in the 1870's. In the movie Primer, our protagonists could not travel back in time any further than the first time the time machine was turned on. For us, the same is true… we can't go any further back in time than the invention of the phonograph, and the wax recordings that were taken almost 150 years ago now.
Well, the University of California Santa Barbara has begun recording and digitizing thousands and thousands of these cylinders that would be lost to time without care and love.
Peggy


Performers: Lopez & Hamilton's Kings of Harmony Orchestra.
Issue Number: Edison Blue Amberol: 4006
Release Year: 1920
American Cake Walk


Performers: John Kimmble [i.e. John J. Kimmel].
Issue Number: Edison Gold Moulded Record: 9341
Release year: 1906
Hezekiah


Performers: National Promenade Band.
Issue Number: Edison Blue Amberol: 2836
Release year: 1916
German Yodle [sic] Songs


Performers: George P. Watson.
Issue Number: Edison Amberol: 595
Release year: 1910
But this is, by far, the eeriest, and most prescient of the recordings I've tripped across… The speakers are unknown. But their words echo through the ages since they were first recorded.
Quote: "Hello, Mister Graphophone. How do you do this evening? Are you quite well? "It has been fifteen years since we last talked to the graphophone and that it's currently 1915. We are still at the farm in old Duck Puddle but that the last time we have had anything from the graphophone, was about 1902. We are at camp in South Bristol." But the best part is this, "All of these records will be very interesting in time to come, when all these people have passed away and only their voices can be heard on you from your graphophone, good bye." Then a woman speaks, giving the year as 1914 and stating this is "the first time I've ever had the pleasure of talking to you, Mister Graphophone."
If you'd like to donate to the encoding effort, or phono-pillage your way through the archive you can do so here. Please tell them I sent you – and happy time traveling.