Interview with Heather Hammers and Your New Music Obsession
You guys probably don't realize this, but movies aren't the only thing I'm obsessed with. I obsess over art and its artists. I obsess about books, and its authors. I obsess about science, and its scientists. This site used to be all over the map, back before I decided to settle down mainly with only one obsession, and ditch the various affairs I had been having here at THiNC. But, while the site has gained significantly from a traffic standpoint by emphasizing, I think it basically leaves a lot to be desired. Back in the day, I'd flip from an interview with an artist, to a discussion about a new book, to a discussion about a movie with a director, to an interview with a freaking bug scientist that had just created a relative pain index scale for bug stings! And the site is a lesser place for it. But alas, me thinks he doth protest too much.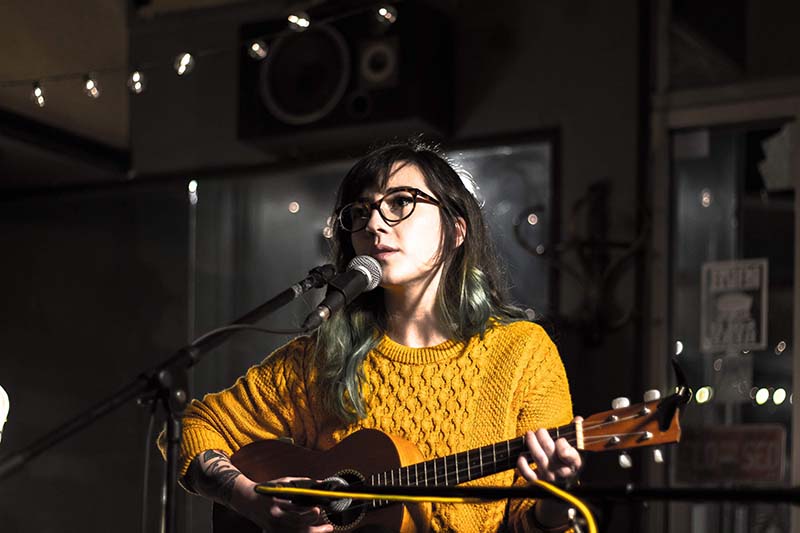 All that to say, the other day, a musician popped up onto the front page of Reddit that blew my mind. I was in Dallas at the time, I think it was like 1 am or some such. And I put her on repeat as I was working or whatever. And I decided right there and then to reach out to her to see if she'd be interested in letting me chat with her a little bit for THiNC…. and I think she responded in like ten minutes, saying, yah! sure! let's do it! hahaha.
When I heard my first Heather Hammer's song, I immediately had an out of body flashback to my love affair with the Indigo Girls. And I swear to the Lord Almighty, that is a non-ironic, non-backhanded compliment. That is me placing Heather Hammers up with some of the greats, and it was meant as a super sincere compliment. I had a serious teen crush on two bands. Blondie. (And I got a chance to dance with Blondie – in a way – so yeah, there's that.) And there's the Indigo Girls. And of course Robert Smith and Depeche Mode, but they don't count. I swear, I have the hardest time staying on topic. But Heather nestles into that category of folksy sunshine music that just is so awesome. She does a great job of harmonizing with herself, and pulling various threads until it all just works. Here, here is the song that turned me on to her talent:

Yes, I know I was right. But thanks so much for confirming it out loud, so that others near you could grasp this too. Heather Hammers IS awesome. Well done. Anyway, I was lucky enough to throw some questions back and forth with her a bit, and she was kind enough to play along. (And yes, she should get an award for putting up with my rabbit trail questions and circuitous chaos… that is true.)

THiNC. – "Currently I am out on your bandcamp site, where you can find your albums you state, "I want to make music that gives people a warm and fuzzy, happy feeling inside. That's what the music I love does for me." Can you tell us more about this? Your music and your desires to impact the listener? Currently listening to your Christmas album, Oh Holy Night, to be exact. And I have to say, that anyone that can get me listen to a Christmas album while I am in Dallas while it happens to be 95 degrees outside is a genius."

Heather Hammers – "I've always seen music as something that connects people. It makes us dance, makes us cry, helps us feel less alone. It has this way of reaching into us and pulling out the deepest, most raw emotions in a way that not many other things can. I guess when I say, "a warm and fuzzy, happy feeling," I'm not actually talking about a perfectly content, sunshine and rainbows type feeling. As a matter of fact, most of my favorite songs ever are dark and hopeless and heartbreaking. To be dealing with these emotions and to listen to music that reminds you, for even just a moment, that you're not alone is huge. I feel like that type of comfort isn't too far off from warm and fuzzy. Oh, and glad you're enjoying the holiday songs! Christmas in July is a thing, right? There's your excuse."

THiNC. "Oh how I know! My daughter just barely got Elf in before the end of the month in order to officially celebrate Christmas in July 'properly'! hahaha. Anyway, How did you start playing the guitar and better yet, when did you start singing?"

Heather Hammers – "So, my mom always tells me this story about how I sang "Twinkle Twinkle Little Star," to her on the phone while she was in the hospital to give birth to my brother. He and I are a year and nine months apart, so I guess if that counts, I've been singing since before I was two. For as long as I can remember, it's always just been something I've done. I would sing at family gatherings and talent shows and such until I was about 15 and decided I wanted to play an instrument. I bought a super cheap, awful guitar online and starting teaching myself from video lessons and chord charts and tabs. It took quite a while to get to a point where I could play and sing, but I'm so happy I stuck with it."

THiNC. – "Guitar + Sing = insanity, in my mind. I can juggle. But if you watch me while I am juggling torches, my tongue is literally always sticking out. Hahaha. I can't imagine trying any sort of hand ambidextrousness while simultaneously singing. Which leads me to, who are your musical inspirations. I'm betting I can guess a few. But who knows. Maybe I'm wrong, and Metallica isn't your thing. Doubt it though. hehehe."

Heather Hammers – "In recent years, as you could probably very easily guess if you visit my YouTube channel, a huge one has been Sufjan Stevens. Everything he does just mesmerizes me and inspires me and I'm pretty convinced he's some sort of magical, other-worldly being. When I first started playing guitar and writing music, I was really into girly singer-songwriters like Ingrid Michaelson (her album "Everybody" is still one of my favorites of all time) and A Fine Frenzy. Both of them have also greatly influenced the way I write. I could go on for days gushing about artists that I love, but I'll spare you and leave it at just those few."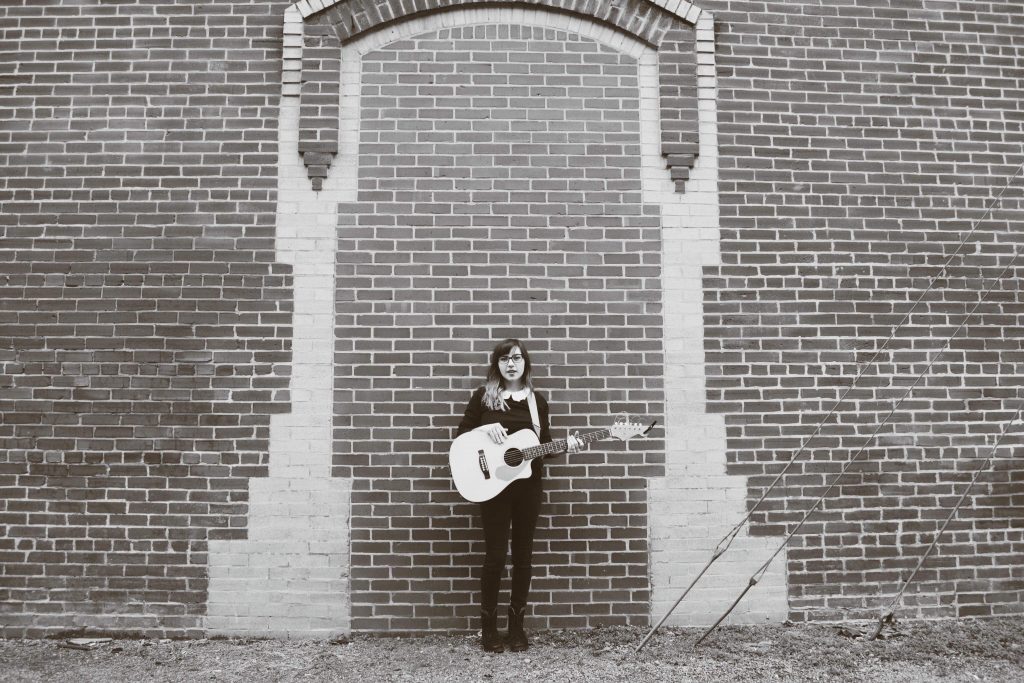 THiNC. – "Oh, no that is great. I love having my musical horizons opened. I now have three different tabs with those artists, and plan to spend the day learning more about their music. So thanks for that! The day before yesterday, (and it is currently 12:15 am) I had never heard of you before. How do we Sam Tsui you into the mainstream? What is the best way that we can promote your music? Tell us the buttons to push, and the places where our credit cards should be mindlessly entered."
Heather Hammers – "Hmm.. Well first of all, thanks! The fact that you want to share my music is super awesome. Aside from the obvious – visiting my Bandcamp page (http://heatherhammers.bandcamp.com) – I've recently joined Patreon. There, you can pledge to support my music monthly and receive super cool rewards in return. I'm doing some really exciting things over there! A few days ago, I finished my monthly surprise letter (an actual, physical letter my patrons receive in the mail) for July. It included a sticker I made that was inspired by one of my songs and a note explaining a little bit about it. There are also tiers on Patreon that give you access to downloads of my songs, shout-outs in my YouTube videos, and the opportunity to choose my cover songs for YouTube. https://www.patreon.com/heatherhammers
THiNC. – "Every single song that I listen to of yours is fantastic. But, the song that introduced me to you (on Reddit of course) is your haunting song, "I Still Love You" basically brought my past back to my life in a heartbeat. Tell me more about the song. What prompted it. And tell us more about that hook, "I won't be here"? But yeah, currently I can't stop listening to it. And how do I buy a copy of it so I can stop stealing it! hahaha."
Heather Hammers – "In essence, the song is mostly about exactly what it sounds like. I wrote it several years ago, and at the time, and I was in a rough place. I loved someone dearly, and knew that I couldn't be with that person forever. I think it started out as an "I miss you" type song, but in hindsight, it has so many more layers than that. Sometimes I play it and it feels nostalgic, other times I'm absolutely heartbroken, and sometimes I think it even offers some hope. The bridge says, "I won't be here," but in the end, it turns back around and says, "but I still love you," again. I think that's my way of saying that no matter what, love is important and worth remembering."
THiNC. – "So intense. So much Yoda right there. (Meant totally with respect as a huge Star Wars fan.) But yeah, we really have to get over ourselves and love others. Such a huge thing. And in this song, man I love how you accompany yourself, and you don't make a thing about it. (TOTAL A CAPELLA USING ONLY THE SOUND OF MY VOICE!!!) Technically, how do you pull it off? What software? And how do you meld it all together?"
Heather Hammers – "To be honest, I'm currently using some pretty cheap software that came with a mic I bought years ago. The process is pretty straight forward. I record the main vocal part, play it back over and over, harmonize along with it, try different things until I get it right, and then record the harmony. I do this over and over for each part I want to add. It takes a lot of experimenting and playing around with parts to get the song to feel the way I picture it."
THiNC. – "My daughter thought that was her favorite answer of this entire interview. Gave her hope to try something like you are doing. So kudos to you. That is awesome. Are there bands that you'd love to work with, or musicians that would just be nirvana for you? Personally? I'd love to see singing and playing along side Gungor. Christian band, but totally fits your vibe."
Heather Hammers – "I've never listened to much Gungor, but that song is lovely! I'll have to give them more of a chance soon.

"I've been in a few bands with friends over the years, and I must say, playing music with other people is one of my favorite things. I harmonize with myself in my recordings, but it would be a blast to have musicians to sing and play with live. That being said, I really don't feel too picky about who. As long as they're talented, like-minded people, I think I would have fun working with lots of different types of musicians. But if I have to pick someone, Justin Vernon has done SO many great collaborations. Although that's just a total pipe dream, I feel like he'd be such a pleasure to write with and sing with. He sings quite a bit on Anais Mitchell's album Hadestown and I can't get enough of their voices together (on the song "Wedding Song" in particular). Vernon's collaboration with Collections of Colonies of Bees, called Volcano Choir, is also incredible stuff. The man just knows how to collaborate."

——

Well there you have it. I know, there are many of you still looking at this post cross-eyed and not seeing "Heather Hammers" the movie in your Fandango app. But you know what… music really is basically a movie, sans plot. Or no, it has a plot, because she loved him, then she didn't, and then maybe she did? SEE?! It's fantastic… and bite sized no less.

Anyway, be sure to check out Heather's bandcamp site right here. Be sure to buy all the musics. Watch all her YouTubes. Patreon the heck out of her patreon site! Come on people! Do it for the midget movies would ya??! Until next time everyone, and Heather, thanks so much for putting up with me and my ignorance on the music front. But more importantly, thanks for making some great music!