One of the things I hated about college life was the intensity of it. I remember friends asking me to go to a party and bagging out on 'em like a flake to study, write papers, and read, read, read. But occasionally, everyone needs to downshift and put the books away, to take a break. And what better way to take a break than to have a good old-fashioned movie night. And heck, we all know, the best way to keep your brain operating at 100% is to think about something else for a while. To give your over-studied brain a break.
So yeah! Throw the books in the closet. Your backpack and laptop can go as well. I've got a list of the ten most perfect movies to take your mind off of studying for a while. Let's kick it off with number ten and work our way backwards from there.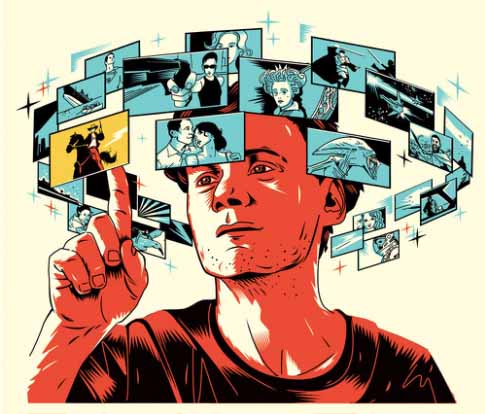 #10 – Blame (2017) – IMDB – "A drama teacher's taboo relationship with an unstable student strikes a nerve in her jealous classmate, sparking a vengeful chain of events within their suburban high school that draws parallels to 'The Crucible'."
THiNC. Take – A modern remake of the play The Crucible? Yes, please. Not to mention the movie was made basically by a student herself, Quinn Shephard – who I had the honor of chatting with about her movie. Blame is just the movie necessary to get your mind off of books for a bit.
#9 – The Spinning Man (2018) – IMDB – "A happily married professor, known for having many affairs with students, becomes the prime suspect when a young woman has gone missing."
THiNC. Take – Memories. How real and trust worthy are they really? What happened yesterday? The day before? How sure are you really? The Spinning Man opens up memories like a Pandora's Box. Come discuss it with us after you are done watching!
#8 – 21 (2008) – IMDB – "21 is the fact-based story about six MIT students who were trained to become experts in card counting and subsequently took Vegas casinos for millions in winnings."
THiNC. Take – 21 tells the true story of Ben Campbell (played by Jim Sturgess), a student at MIT. He is brilliant but bored and looking for adventure. Enter professor Mickey Rosa. Rosa is the leader of a group of students who use their mathematics skills to cheat at Blackjack. They come up with a unique algorithm and communication system in order to beat the house and cash in. It is rather unique how complex and well-thought-out their plan is, which is why this movie is often used as a referencing point in several university classes. Since there are so many possible takes that one can have on 21 it might be best to consult an online academic writing platform as to which perspective can help you impress the lecturer. Oh, and it carries a great lil twist ending to boot.
#7 – PI – (1998) – IMDB "A paranoid mathematician searches for a key number that will unlock the universal patterns found in nature."
THiNC. Take – A math student and numbers addict gets lost in the downward spiral of numbers and his hope to find a universal numbers theory that can predict anything and everything using this God-Algorithm. Oh, yeah, and maybe he might just go mad searching for this holy grail. 
#6 – Flatliners (2017) – IMDB "Five medical students, obsessed by what lies beyond the confines of life, embark on a daring experiment: by stopping their hearts for short periods, each triggers a near-death experience – giving them a firsthand account of the afterlife."
THiNC. Take – Personally? Still undecided if I think Flatliners one or two (because 2 isn't a remake, its actually a sequel). But both might be worth watching, especially if you are as big a fan of Keifer as I am!
#5 – Thoroughbreds (2017) – IMDB "Two upper-class teenage girls in suburban Connecticut rekindle their unlikely friendship after years of growing apart. Together, they hatch a plan to solve both of their problems-no matter what the cost."
THiNC. Take – Heathers crossed with American Psycho creates the unholy love child of Thoroughbreds. It is a well thought out mental chess game to beat all comers. It is a fantastic mindjob of a movie with so many layers. Join us and discuss it after you watch!
#4 – The OA (2017) – IMDB "Having gone missing seven years ago, the previously blind Prairie returns home, now in her twenties with her sight restored. While many believe she is a miracle, others worry that she could be dangerous."
THiNC. Take – Brit Marling. Oh, and by the way, Brit Marling. I've been talking up her stuff a lot lately, what with I, Origins, and The Sound of My Voice, the OA should just be one more obvious movie worth watching. But trust me. The OA is the best thing she's ever written or acted in.
#3 – American Animals (2018) – IMDB "Four young men mistake their lives for a movie and attempt one of the most audacious heists in U.S. history."
THiNC. Take – These college students have Cinderella concept for how this heist ought to go. And you know what? It couldn't possibly be further from the truth. This is the largest heist cluster you have ever seen. It is a definite must see movie. Then join us later to discuss afterwards.
#2 – Enemy (2013) – IMDB "A man seeks out his exact look-alike after spotting him in a movie."
THiNC. Take – A mindjob to end all mindjobs. It is a movie that is similarly daunting to Donnie Darko, and Primer. I really can't even say much at all about it without really giving everything away. Literally the last 30 seconds will have you jumping off the couch screaming, WHAT THE HELL!?!? Check it out and read my review later.
#1 – Good Will Hunting (1997) – IMDB "Will Hunting, a janitor at M.I.T., has a gift for mathematics, but needs help from a psychologist to find direction in his life."
THiNC. Take – When asked what my favorite movie of all time, I generally go with Primer, or more often than not, Good Will Hunting. GWH has an amazing, heartfelt story, with a no holds barred assault on Will's psychic trauma. Oh, and did I mention that Robin Williams was absolutely amazing?
Edited by, CY