ANNOUNCEMENT – ROUND ONE IS COMPLETE – SEE WHO THE WINNERS WERE!! SO EXCITING!!
I get carried away with literally everything I try to do. I take every little thing that comes to mind way too far. And that is how we got here today folks. I'm a nut job. Plan and simple.
Bottom line right now? I'm going to give away some swag. The prizes are brilliant for an in-the-red, money-sucking pit like this one! Hahah. Let's see, our ever lovely editor, CY has supplied us all with a number of hard-to-find mindjob Blu-Rays & DVDs. (Which is how this madness got started – THANKS CY!) There will also be some THiNC. t-shirts, THiNC. mugs, and even one of my Godzilla vs. King Kong prints to the winner! And not one. Not two. But THREE winners will be chosen. But only after a super-serious… incredibly intense, world first, virtual Rock Paper Scissor competition!!!! (Yes, that is the appropriate number of exclamation points.) Curious how said competition will work? Hahahah! I bet you are: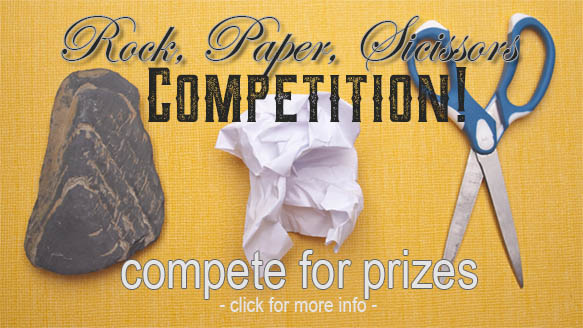 1. You will first need to be admitted as a participant into said competition scrum. To do so, all you have to do is to post something about my blog on social media. Tell your family members and friends that you hate my site. Brilliant. Say you love it – perfect. Tell your friends about a post where I'm wrong – and that I'm smoking crack. Love it. Share with people on twitter that you found a new movie that you love? Even better. Whatever. I don't care. After posting it, just link us to your post in the comments below. (Due by midnight eastern, August 31st.)
2. Everyone that posts a social comment below will move on to the next round. (Lord help me if 92 people choose to participate.)
3. Then, all of those participants will get to jump into a huge melee of Rock, Paper, Scissors. To pull this off, I'll then need you to send me (to the email address – taylor at taylorholmes dot com) 30 rock/paper/scissor call outs. (Something like this, "Rock, Rock, Paper, Rock, Scissor, Rock, Paper"… you get the idea. Ultimately just make sure you send me thirty of them.) These call-outs will be due Wednesday, September 4th.
4. The competitor match-ups will be chosen at random (random number generator and everything), and your call-outs will be matched against your competitor's and posted in all their technicolor glory. There will be heats, and rounds, and whatnots. And ultimately your placement among the final three will determine your prizes. (Or something. It's really just going to depend on how many jump in for this insanity.)
Got that? Step 1 – get your social media link posted below. Step 2 – email me your 30 rock, paper, scissor call-outs. Step 3 – watch the blog for the competitions to be posted. Step 4 – anxiously await at your mailbox for the swag to arrive.
This is just one more way to say thank you to all of you for participating in this weird little experiment of a site. We'll soon be celebrating our 10th anniversary of movie posts here at THiNC. – and I am all the richer for your involvement! Let the Rock Paper Scissoring begin!