The other day I brought you a film – a 65-minute – indie, closed box film, that was a fun little project that was totally worth your time. Active Shooter. It was one of those movies that makes you go, yeah… I should write that script idea I have down. I really should. Not only that, but I should also get a camera, a few decent actors, and make it. Obviously, Active Shooter is WAY WAY better than anything I could ever create. But it's one of those films that seems accessible. Doable. Which made it really fascinating to me. Which is why you should go watch it right now if you haven't already. First, because it's good, and you'll enjoy it. Secondly, because you won't understand half of what this post is all about! hahah.
After watching that film, I thought maybe I could hunt down and find that individual responsible for that really fun, totally enclosed script, and learn more about the creation process for that film. And thankfully! Toby Osborne agreed to put up with my nonsense for a few minutes, and answer some of my questions. Without further ado, here is our conversation about his film, Active Shooter, and how it came to be: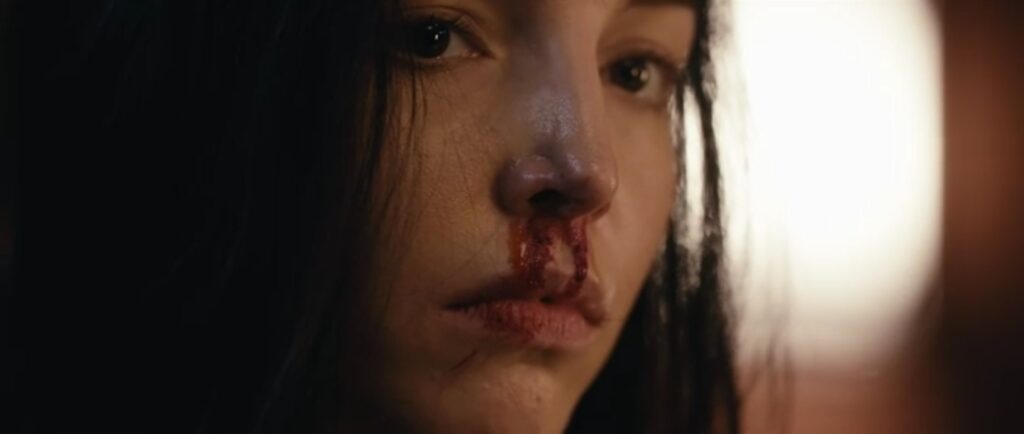 THiNC. – How did this idea come together, and what was the impetus for this story?

Toby Osborne – I'd written the original idea, of setting a story entirely in the confines of a restroom, in a notepad a long time ago — back then, it was conceived as "Men's Room."  I kept coming back to the potential of this location and how we could keep the characters trapped in there, and then the conflicts that would arise between them.  Unfortunately, active shooter situations were becoming increasingly commonplace, to the point where they've tragically permeated our daily lives and collective psyche. Nowadays when we hear anything that sounds like a gunshot in a public place, we all know the drill — hide, barricade yourself in or lock the door, be wary of anyone you don't know…  So, this fear of the unknown, after hearing shots fired became that core reason for containing the characters in this tight spot and served as a backdrop to escalate their tensions and distrust of one another, leading to this life and death struggle — inside the restroom, separate from the troubles outside — with one gun between them that is invariably the deciding factor of who's in control.
THiNC. – So how did the project evolve from that original idea into the script and the film itself?

Toby Osborne – Initially, I turned the concept into a short script, set inside an office restroom, entitled "Chambered," which was intended to be a writing sample.  As a working screenwriter, I was up for a rewrite job with a production company and their director (Alastair Orr, who recently made "Triggered") asked for a sample for an action-thriller project, so I sent along "Chambered."  Well, not only did I get hired, he loved "Chambered" and optioned it, asking me to turn the short into a feature-length screenplay.  By the end of the option period, the feature script was finished and in great shape, and they'd raised $100K from investors for production, which was the original goal, but they then figured it would cost closer to $300K to make it…  Within a month after the option period ended, I'd shown the new script around and optioned it again, this time to a filmmaker in Atlanta (Bryce Milburn) who immediately grasped the appeal and had investors ready to go.  There was a quick rewrite, switching the gender of two of the characters, and it went into casting as "Ladies Room," which brought onboard actresses Catherine Dyer ("Stranger Things"), Andrea Andrade ("The Conjuring: The Devil Made Me Do It") and Ashlyn Moore ("The Tomorrow War"), while Bryce had also already previously worked with actors Joshua Mikel ("The Walking Dead") and Michael Aaron Milligan ("24: Legacy").  A couple of months later, it was in production with a new title "133 Peachtree" (the address of the iconic Georgia-Pacific Tower office building in downtown Atlanta) and would eventually be released as "Active Shooter."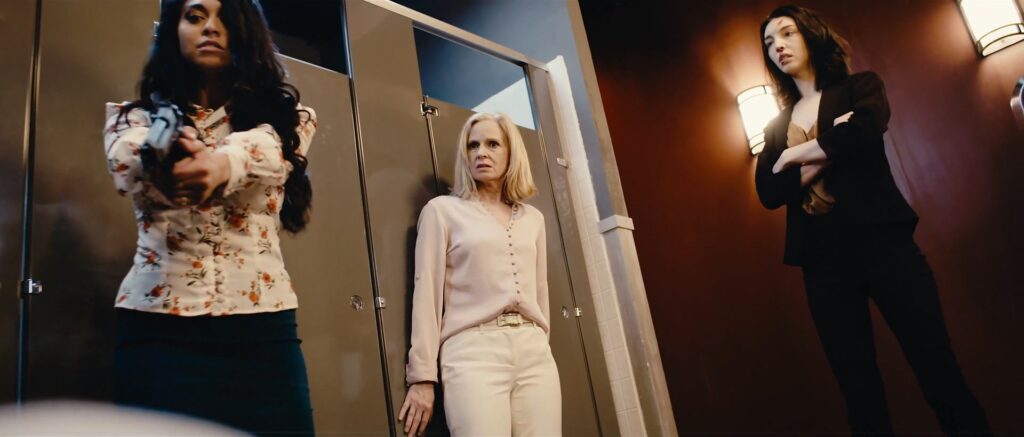 THiNC. – Active Shooter is a small film, super super small budget obviously… did you write with those constraints in mind with the hope of getting it to the screen?

Toby Osborne – I love contained films — I think it's an underrated cinematic art form, honestly.  The first time that I watched "Cube," I was just in awe of this one cube-room set, with different colored lighting to represent different rooms — it was genius.  And the film itself was compelling and clever, not impeded by its constraints.  If anything, the containedness and the claustrophobic aspect was turned into an asset, ramping up the conflicts and dizzying madness of being boxed in.  So, definitely, I had those constraints (or assets) in mind for "Active Shooter" from the beginning.  It was like a challenge I'd set myself — to have a minimal space, with minimal cast, and limited props to work with, but aiming to turn that to my advantage.  Once I wrote that single scene heading — "INT. RESTROOM – DAY" — that was it, I knew it had to be that way throughout or I'd failed in my objective.  And in the end, it was the only scene heading in the script, asides noting that, from time to time, we go inside the various cubicles.

When I eventually took the script into the marketplace to sell it, there were producers who read it and said, "Well, of course, we'll need you to write a couple of scenes inside the office area before going into the restroom…"  But, it was Bryce (the director) who saw it the same way I did — We're inside that restroom from start to finish.  And I think that there was obviously an appeal to any independent filmmaker that this was an ultra low budget single location story with a handful of characters, although I also think that inherent minimal/limited challenge was something that attracted everyone to the project — to make a feature film under that tight constraint, without it limiting the creativity…  Bryce's behind-the-scenes background in the industry includes rigging these kinds of creative camera set-ups for major studio films like "Black Widow" and "Godzilla: King of Monsters", and TV shows "The Walking Dead" and "Ozark," so I knew he'd bring this expertise to the table.  This shines through in some of the cool angles and shots in the film, I think.
THiNC. – I personally call small films like this, "Closed Box" films… is there an industry term for them? Single set films maybe? I've always been curious.

Toby Osborne – Yeah, I think that I pitched it as "contained" or "single location," but I like Closed Box.  It's funny as I always thought that the producers would use an actual restroom as the film's location.  But they built an entire restroom set, with toilets, cubicles, sinks and everything.  So, they made this "box" just for the film and I think that's what allowed them to "think outside" of it, get above it, cut holes in walls and all those types of tricks to capture the events inside and make it feel like we're closed in with them.

THiNC. – After writing the screenplay, were you involved any further with the creation of the film? Were you on set?

Toby Osborne – I didn't visit the set, though it looked like a lot of fun – and blood – and hard work, too. It was a twelve-day shoot so that was a very real constraint for the cast and crew.  In the end, through editing in post-production and some decisions by the producers; a couple of twists and action scenes didn't make it to the screen.  So, a tight script became even tighter and that's reflected in the lean runtime.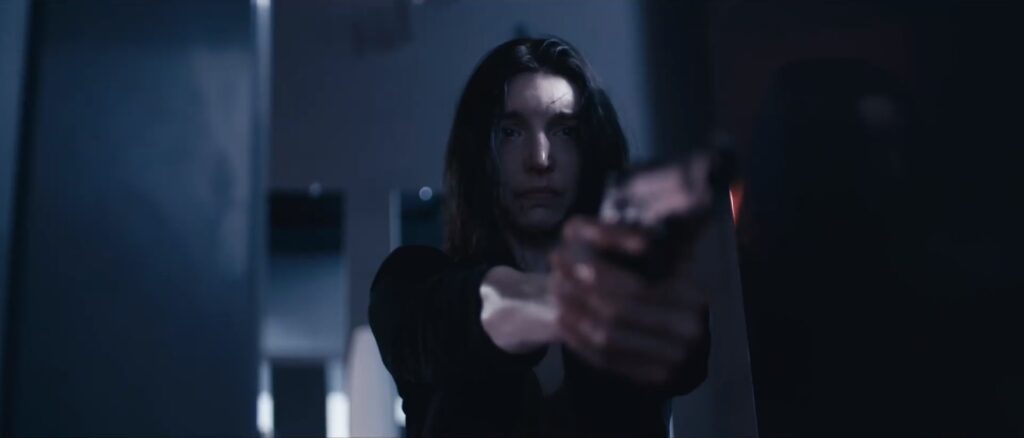 THiNC. – It was a clever twist to have the boss attempt to kill the second shooter, but the bullets to be gone. Was this mainly because the boss got her due for being a horrible person, and also for firing one of the women there in the bathroom? Walk me through that.
Toby Osborne – Personally, I'm a "no spoilers" guy — I always loved Hitchcock's approach of apparently barring latecomers from entering the theater to see "Psycho" once the film had started.  So, I tend to avoid revealing too much or reading anything beforehand, as I like going into a film knowing as little as possible.  But… I've heard from a few viewers of "Active Shooter" that they felt a sense of satisfaction when "that character" gets her comeuppance.  Does she deserve it?  In movie terms, yeah, I think it was earned — her hands weren't clean and so there's that karmic payoff.
THiNC. – Are you working on anything else? Any scripts in the works, or other movies you are working on that we can help support?

Toby Osborne – Always working on something — I'm thrilled to have a few projects in production and several more in pre-production.  And I always keep coming back to my notepad, writing down new concepts that are workable on a small budget without limiting creativity.
THiNC. – The movie sits just at an hour. 1:05 to be exact. And it's perfect right there. But as a hypothetical, if the director (Robert Bryce Milburn) came back to you just prior to the shoot and said… Toby, I've got an hour of shoot time here I'm thinking. Get me to 80-85 minutes, what would you do with the project to find those 20 minutes?
Toby Osborne – There were some reveals and twists that didn't make it into the final cut — for instance, the script had an added twist at the end, with a "last person standing" aspect to it. So, I'm not sure if there's an alternate extended ending that was filmed, which remains on the cutting room floor and would account for those extra minutes? But, absolutely, when I originally expanded the short into a feature, I had all kinds of ideas that I was brainstorming and bouncing around. And, hypothetically, I'd probably have bombarded them with those ideas and many more. All said and done, the current runtime feels very watchable.
---
And there you have it. Thanks so much Toby for taking time out with me to chat about your clever film script. We really appreciate your answers — so interesting, and so informative!! Can't wait to see what you bring us next!!
Edited by: CY