Your must watch movie of 2020 is without a doubt, The Devil All the Time. Have you seen it yet? But why not? I already told you it's your must watch movie of 2020. What's not to understand about that? Here, I'll even link you over to Netflix so you can do it right now. If you are still unsure, it has sort of a No Country For Old Men feel to it, and I mean that in the best possible way. Not only that, but I'm CERTAIN that The Devil All the Time will make a serious dent this awards season. CERTAIN… and should we even go out on a limb and make an early call for a Best Movie Oscar? (What? You hadn't heard? The Oscars changed the rules this year about needing a theatrical run! Come on guys, you need to start bringing your A-game.)
So, the moment I finished watching the film, I picked up Twitter and immediately went looking for the writers responsible for making such an amazing movie. Paulo Campos and his brother (and director) Antonio Campos. Thankfully, Paulo took me up on my offer to chat, and we were even able to get a THiNC. Patreon subscriber question in as well. (Great question Chris T). Alright, let's jump right in – thanks again Paulo for agreeing to talk with us!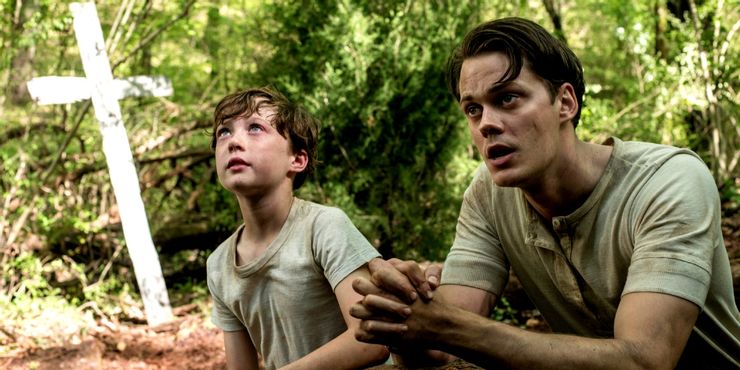 THiNC. – "I just realized that that was Don's voice narrating in the movie. That is a clever twist. How did you and your brother come to that decision to have him do it? And was it hard to get him to agree?"
Paulo Campos – "The novel's narrator reveals so much about these characters to the reader that there wasn't a way to convey via dialogue. Some of what we learn about them, they're not fully aware of. So the idea of The Narrator was on the table early on. We'd heard Don's voice in interviews but never reading the novel. We met him during a visit to Chillicothe, Ohio, where he lives, and close to the real Knockemstiff. Tony asked if he'd mind reading from the book and he read a few minutes. The sound of his voice had an authenticity and character to it that made The Narrator we'd considered using feel like it could really work to add insight to the characters and help establish the tone. Tony asked him not long after that visit and, as I understand it, pretty immediately agreed.
THiNC. – "IMDb has this as your first writing credit? Maybe it's wrong? Have you ever done any other screenplay writing before. My jaw is currently on the floor that you decided to make this your first go of it? This book is crazy complicated!!"
Paulo Campos – "Correct. This is my first credit. My background is in academics (I studied English, an MA at NYU and worked toward a PhD at Ohio State) before deciding I'd rather teach high school English and began writing fiction. I didn't write with much of an interest in publication, but did place a few pieces in small literary journals and online publications. I was 3-4 years into work on a novel when Devil picked up steam. I was working with a fairly involved plot and think that helped when we began to go over the structure of Don's novel and how to put it together in a way that would make sense whether we wrote The Narrator or not. In addition to that being useful, I had used film adaptations in the classroom (both in college and HS) as a way to help prompt my students to think critically. So thinking about adapted works of fiction wasn't new ground. In fact, that I didn't see an obvious way to adapt the novel was an appeal. It would be a challenge to work on and that's generally appealing to me. And a collaboration with my brother was a bonus; something we'd been interested in doing for some time."
THiNC. – "At over 2 hours, this is a long movie, but you had to cut quite a bit from the book to make it work. What was the cut that hurt the most? And why did you make it? Personally, I was really shocked at how much about Sandy and Carl was in the book. (I read the book after watching the film. Not the other way around.)"
Paulo Campos – "We wrote the first draft without too much concern for how long it would be and focused on writing out what we wanted in the story. The hardest cut was one of the first we made: an abbreviated but excellent modulation of Roy & Theodore's story. It's a really compelling part of the novel but strayed from the Willard-to-Arvin spine of the story we wanted to focus on. It's one of a few moments, but I think the most representative, of where it was stark that including a part of the novel in the film would be disservice to both the novel we were adapting and the film. In general, because we have a high regard for what Don wrote, our aim was to consider the spirit of the novel when making decisions about adding something new or cutting something out."
THiNC. – "This is an amazing novel – how were you guys able to acquire the rights to it?"
Paulo Campos – "Randall Poster, a well-known music supervisor, liked the novel and acquired the rights from Don. He worked with Tony when he produced "James White" and was the music supervisor for "Christine." He recommended it to Tony and offered to produce it if Tony wanted to direct. Tony really liked the novel and brought it to me as the possible project we'd been thinking about collaborating on for years."
THiNC. – "The evil that permeates this script/book is palpable – what do you think it says about our culture and this world of Knockemstiff that Pollock crafted?"
Paulo Campos – "This is an interesting question, because I have to answer it more deliberately for Devil than any other film. What I say specifically relates to how a viewer may perceive what I co-wrote. That stated, one aspect I appreciated about the novel is that it asked the reader to find meaning in its various stories. Different viewers, familiar with the novel, can interpret evil (or other themes) in relation to the novel and what's in the film in different ways.
"I think an adaptation is a form of interpretation. From my experience using it in the classroom and discussing adaptations with academics and other writers, I've found it more satisfying to look to the space between the source material and its adaptation for answers than its makers. It's more important for the audience to examine how any work that's traversed mediums is in discourse with its source material and also with the world the audience lives in.
"A side note about adapting the novel's world and themes (my main answer is in the 2 posts above). In Netflix's "Script to Screen" video I retweeted this morning" [ed. note: the tweet is included below] "Don briefly mentions feeling the book was in good hands. He's fairly succinct in the interview, but that's on par with what he's communicated privately. It was generally important to me that we carry the spirit of the novel to the screen."
THiNC. – "Are you and your brother working on anything new? The two of you seem to be a power couple now, congratulations!! Can't wait to hear what is next on the horizon."
Paulo Campos – "We don't have anything on a mutual front burner. Separate projects for the moment. Collaborating on this was a defining experience for me as a writer and it's interesting to explore how it's changed my approach to thinking about characters and stories. Horizons in writing should be exciting, like the challenge of working on Devil was. With just a week since the film's release, what this one looks like is still taking shape."
Such great answers. Thanks Paulo for taking the time out to chat with us here at THiNC. about your movie. Maybe you have time for one more reader question this time? This one comes courtesy of one of our THiNC. readers over on our Patreon side of the house:
Chris_T – "One thing I'd like to know if my gut was correct, in thinking that the driver of that VW van at the very end, was a Charles Manson art type, or even better………Charles Manson! It was the first thing I thought when I saw that guy. A young developing Charles Manson."
Paulo Campos – "Not Charles Manson."
THiNC. – "This has really been a fantastic behind the scenes view of an extraordinary movie. Thank you for your time. Maybe I'll ask one last question about the ending of the book, and the movie. At the end of the book, it stops with Arvin hoping to get a ride on Route 50. I'd be interested to hear about the flash forward (backward?) scene, and your intent with that scene."
Paulo Campos – "The book ends with Arvin on the road hoping for a ride and many possibilities are reasonable for him. Since there was a bit of room to show what his future might look like at that moment and also let the story the audience has been with begin landing it was an opportunity offered by film and our choice to use the kind of narrator we did. A driver who was part of an identifiable culture was a way to peek out of the Knockemstiff-Coal Creek world the film was set in."
My personal assumption was that this was Arvin's hopeful forward projections of where his future might go. I had thought momentarily that it might be about a hopeful twist to his own past. But that just didn't click with where he was in the story currently, and what he was thinking about at that moment. The book does give a hint of his desire to leave his past behind by jumping on Route 50 and leaving. So it all aligns very tightly with the book even though the movie's ending is added. It was a nice touch.
Anyway, thank you so much Paulo for taking time out for us, chatting with us a bit about your brilliant movie. I hope you get nominated for a billion awards and even win a few come this awards season. The screenplay definitely deserves an Oscar in my mind. Congratulations on such an amazing movie.
Edited by: CY