Help Find the Latest Banksy It's Been Found
Banksy has been silent since his New York "show" six months ago.  I enjoyed this ranked review of the pieces and their reception from beginning to end.  Now granted, Banksy blew the rough off the art world around the world with the chaos that ensued in New York back in October of last year.  Some hailed it as a failure.  Others saw it as, um… illegal.  Right?  Anyway, the unnamed artist has been silent ever since.
Until now.  He's come out with two pieces in England.  The first piece is a group of secret service agents bugging a phone booth.  This particular piece popped up int Cheltenham – the home of the England's Government Communications Headquarters (GCHQ).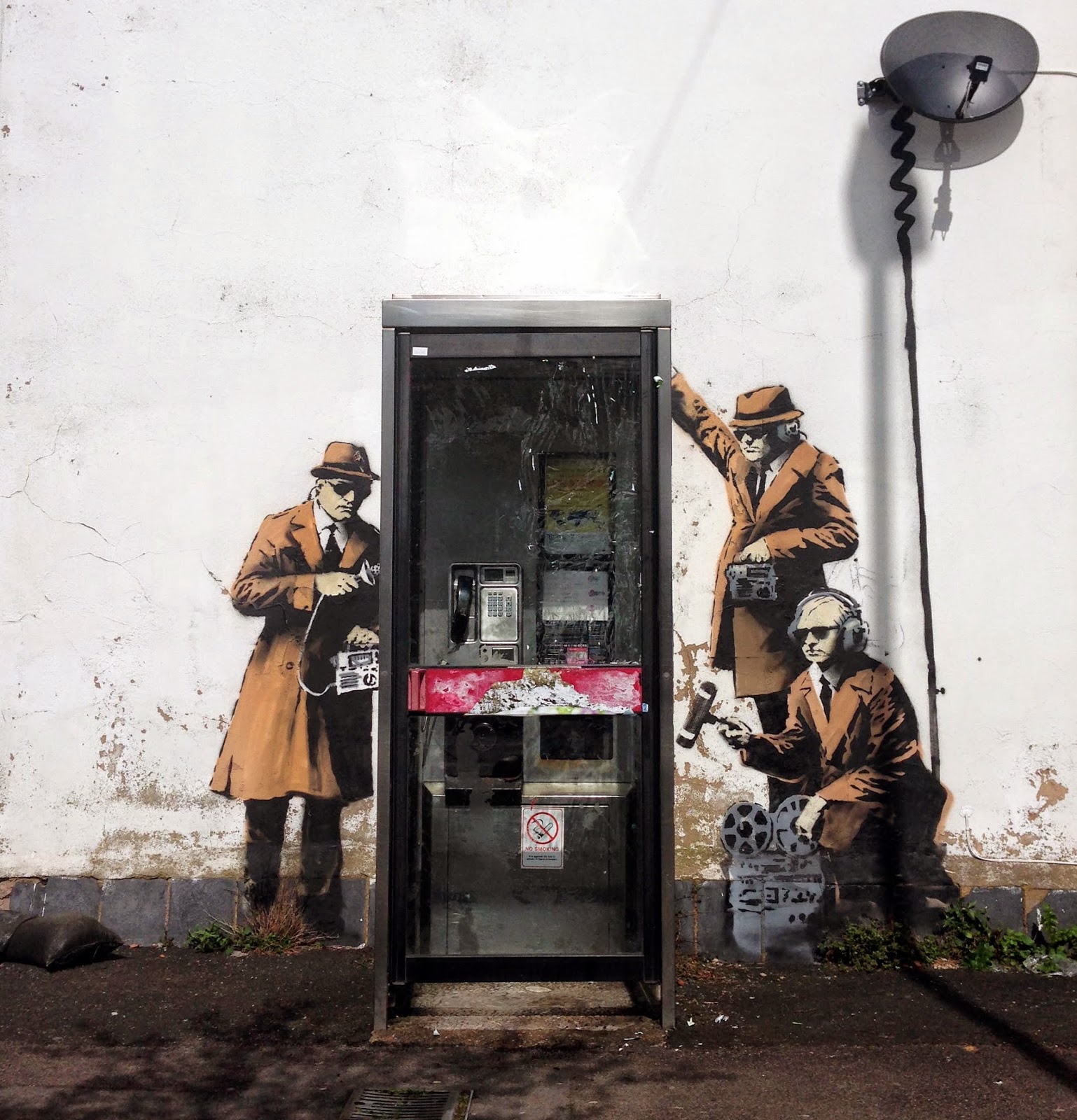 Love "him" (them?) or hate "him" – you got to hand it to the guy, he knows how to speak quickly with a simple stencils and some spray paint.  Obviously they aren't lasting Picassos.  But they do communicate.  Definitely like this piece in a cute sort of a way.  But it definitely doesn't rival the vibrancy of this next piece of Banksy's.
This latest piece is entitled "Mobile Lovers".  And I'm sure that the larger point goes without saying.  I can personally relate as I personally check my phone close to 300 times a day I'm sure.  (Apparently the average is 150 times?  I should probably count just for giggles.)  But here is the most interesting thing about Banksy's latest… no one has found it yet.  Banksy has posted these two photos on his site but otherwise… no one knows where the paining was done. Live in the UK?  Got an arc-welder?  Want to help find the latest Banksy? You can make away with at least a hundred thousand quid without anyone being any the wiser.  Heck, the reason its still unfound could definitely be because it was already stolen.  Weirder things happened during the New York show that is for sure.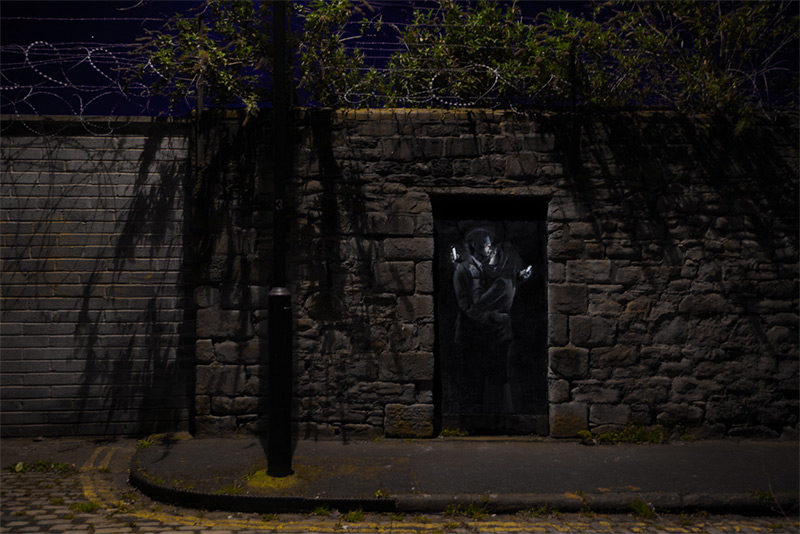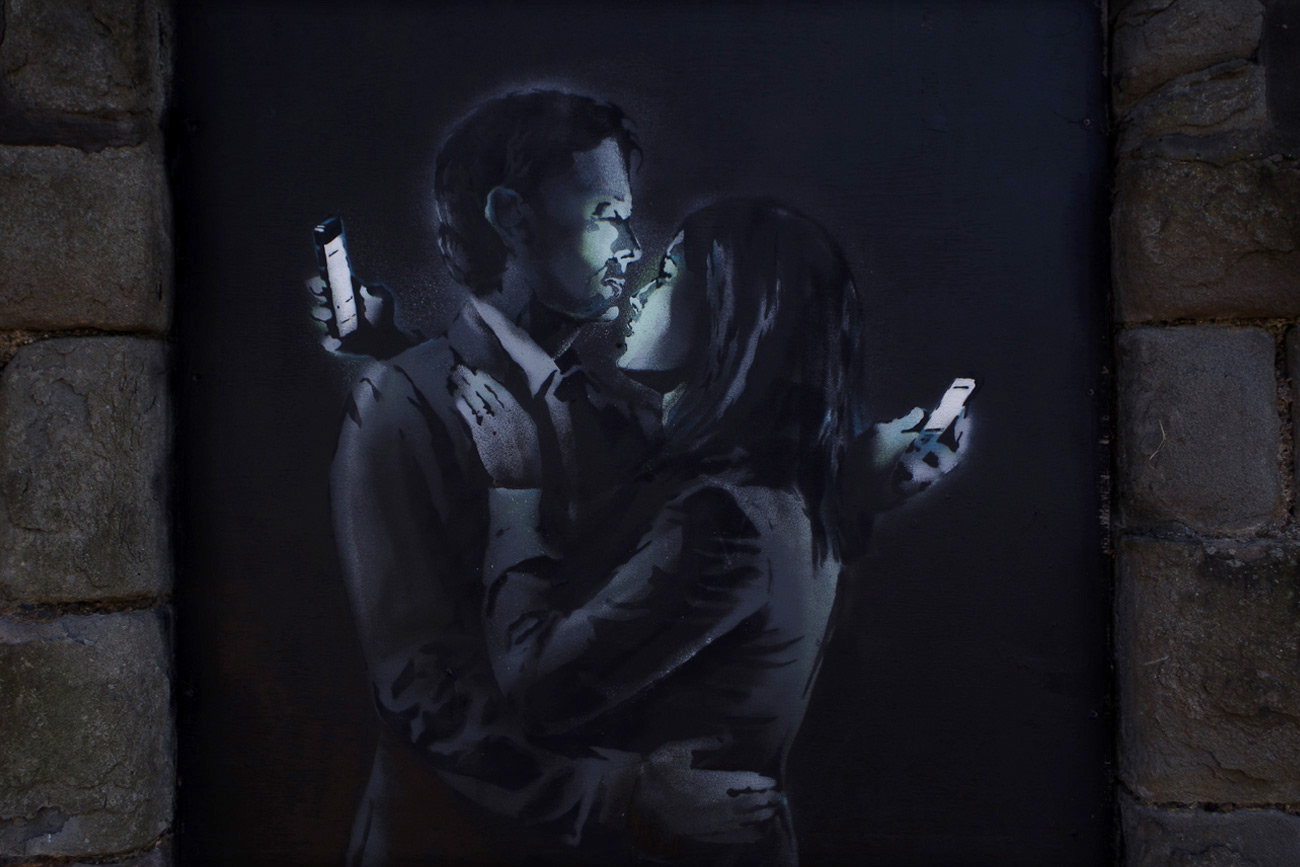 Update:  The latest Banksy piece has been found… and removed via crowbar.    It was found in Bristol on Clement street.  The door and facilities was owned by the Broad Plains Boys Club which were responsible for removing it and showing it in the clubhouse.  Which is brilliant in every possible way.
The BBC news reported that a youth worker at the club named Gordon Powell stated that, "We're open all the time, day and night, so people can come and see it for a small donation.
"The club is 120 years old and we need £120,000 to keep the club open.
"There's a massive wall he [Banksy] could have done it on but he didn't, so we think he did it to help us raise the money."
And you heard it here first – Banksy isn't actually an artist, he is actually, in fact – Robin Hood.