Veela Singer Songwriter Interview
I don't generally review and interview music here on this site, though I am something of an eclectic music connoisseur. But what I do really love is talking to people. Just love meeting new people and talking to them about what it is that they do. And throughout my ramblings here at THinc. I have interviewed possibly the greatest living portrait artist in Europe and maybe the world. I've interviewed some of the greatest movie writers in the world. I've interviewed Actors, cinematographers, scientists, pain index explorers, and just wild avant garde artists doing crazy weird stuff that would blow your mind. And even I've interviewed normal people, just to get to know them. You can even peruse my conversations with various eccentrics if you'd like.  But all that to say – I love talking to smart, creatives that just make amazing. And today's conversation with Veela is just one more fantastic example of someone that loves to create.
So yeah, who is this Veela? The other day, when I ran across a song, not even sure how I found it, but I loved it enough that I shared with you all. And after I knee-jerked that post out to the world, I reached out to her and asked if she would be OK answering a few questions about her music… and she was kind enough to oblige me. Thanks Veela for agreeing to chat! But before we dive in, why don't I give you a couple really good examples of the kind of amazing that Veela has created so you have some context. Also, want to support Veela by purchasing some of her music? Do that right here.
I'll include a few more at the bottom of this post if you are interested in hearing more from Veela. But now? Let's get to that interview I was telling you about…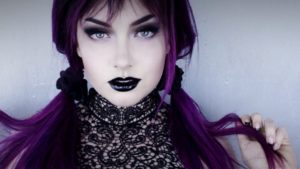 Taylor – "First question – as a huge dubstep, EBM fan I generally focus on the beats, and hope for that occasional gorgeous female vocal to drop in from the sky out of nowhere and pull the entire song together. Being that female vocal, what's it like constantly playing second fiddle to a DJ and a drum kit? Personally think you deserve your own band, something that goes the direction of maybe Imogen maybe? Or possibly a vocal version of Lindsey Sterling?"
Veela – "Interesting, I never viewed my part of the completed song as "second fiddle". Many instrumentals would never come together or sell as well without a vocal and it's the vocalist's job to make it into something commercial, catchy and memorable. I always feel valued and appreciated by my peers and find my work fulfilling."
Taylor – " I am sorry for my usage of the phrase "second fiddle". What I meant was, it is because of you, and others like you that these songs soar. You are really what make them perfect. And I wished, that instead of you just doing piece meal work for bands here and there, (maybe you don't feel this way), but that you'd have your own band that follows your lead. That was all. Sorry for the confusion on that point. I just would love to see your talents in front of a band that appreciates your vocals as much as we do. Definitely could have been more clear.
"The song that introduced you to me specifically (I knew of you via Blackmill first) I mean, made me sit up and take notice was your My Enemy. Can you tell us a little bit about that song?"
Veela – "No problem and no offence taken. Completing "My Enemy" was a very love/hate process for me. I find music production to be incredibly challenging so finishing any electronic song that I produced and mastered myself is a huge personal accomplishment. That one I really loved the sound but it always sounded unpolished or unfinished in some way so I kept leaving it to finish later. My project file later got corrupted and I was forced to release it as is, lest it never be released at all. Overall I'm happy with it."
Taylor – "But the song that had me in stitches (and actually sort of pissed at myself for loving it as much as I did) was 'Pop Song Made In A Day'… such goodness, and written and created in 18 hours? Music video in less than 24? What was that day like? The results were stellar, and I can't help but think that if you guys had taken yourself just a tad more seriously it really would have been a number one." (Note: I've included the song from youtube below her answer so you have context as to my question and her response.)
Veela – "The day was great. Dave and I really get along well and have wonderful project-related chemistry together. We have the same work ethic so it wasn't really a big deal for us to lock ourselves away and finish a basic pop song. I'm actually picking him up from the airport tonight for another visit here in Canada and we'll surely make more magic. He's one of the funniest people I know so we always have a stellar time together."

Taylor – "Your Selena Gomez cover of Good For You is really distinct, and extraordinarily good. I think I could listen to you sing straight out of an Encyclopedia and really dig it."

Veela – "Thank you so much! I love doing intricate covers of songs I really like."

Taylor – "You have a "newer" CD out entitled Course? I assume that is all your own work? Didn't notice any collaborations there. Are you playing the piano?"

Veela – "Yes, for "Course" and all my acoustics, I play the piano and compose everything myself. I started out writing piano music when I was younger so doing an acoustic set of songs is very grounding for me. It's a good practice in melody and general songwriting – acoustics are very unforgiving. And sure I'll comment on the cover, I love it!"

Taylor – "What would be the pinnacle for your music career? Who would you love to work with? What show would you like to do? What is the definition of success for Veela? What says I've made it?"

Veela – "I'm not crazy about viewing a career with a "pinnacle", it's so demotivating. I view my career as a constant fluctuation of inspiration, discipline and opportunity. The definition of success for me is to be able to support myself and my family financially through my art alone so, to me, I've already found success. There are many artists I would love to work with, Die Antwoord, Flume, Diplo, Kendrick Lamar, Childish Gambino… I could go on. I'm excited to keep creating and see where else my work will take me.

Taylor – "What would you like to say to artists, movie creators, musicians, sculptors out there that are afraid to take the artistic leap?"

Veela – "You must make a personal agreement with yourself to "know" you'll make it so you don't make decisions out of fear, but out of excitement. Keep on top of the immense power of branding and social media and above all – keep your business relationships pleasant and professional. Don't let anyone be able to say a bad thing about you in your industry and always be a pleasure to work with."

—-

Come on. That's goodness and light. What is really funny is that when I stumbled on the song I posted a couple of days ago I assumed I didn't really know Veela at all. But since then, I've dug through my massive pile of music that I've been listening to for years and have found at least (still searching) 5 songs of hers on my hard drive. Literally immediately under my nose. So kudos to you Veela! Way to insinuate your way into my life multiple times and many ways! hahah. Here are a few more of Veela's songs if you are interested.