Simon Stålenhag Has A New Kickstarter To throw your Money At
In the annals of geekdom, there needs to be a chapter or two specifically about Stålenhag. I'd actually be surprised if you've never seen his work before his art is so iconic and unforgettable.
Most recently Simon Stålenhag has started a Kickstarter campaign, Tales From the Loop which has raised $159,000 against a hoped for campaign of $10,000 – and he has done that in the first 5 days. That, my friends, is the definition of crushing it. The campaign is to create 2 books in English that will create short stories to accompany each picture.  The two books are:
Book One: Tales from The Loop
Book Two: Swedish Machines, Lonely Places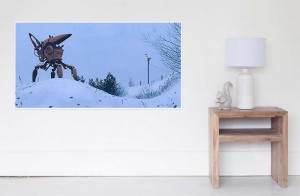 If you are interested, you can see more of his art via his website and better yet, many of his pieces are available as individual prints.  On Simon Stålenhag's website you are able to get prints of his work and also a million differerent products of his work. Seriously considering getting one of Simon's pieces for my mac book. Or a poster for my living room?! But enough about me.
There really is something about these retro-forward, 70′ & 80's visions of a worn down future that are trance inducing. Children playing amongst the ruins of the rusted out hulks of giants. Police investigating missing persons across the fields while enormous sci-fi space stations light up the night behind them. Such fantastic couplings of ideas and concepts.