Netflix Series Dark Family Tree Poster
UPDATE!! — I've finally updated my tree with your insights and your changes –UPDATE!!
And if you purchased a copy – email me please, and I'll send you the updated version.
If you haven't started watching the new 10 episode series Dark from Netflix, start now. It is a truly fantastic time traveling, mind-job of a series. It's like taking Stranger Things, adding 10 times the goodness and strangeness, and then adding time travel to blender your brain all the more. It is truly fantastic.
Now, please know, the rest of this particular post is going to 100% be spoiler material. View at your own risk.
Anyway, I have spent the past two weeks taking notes, diagraming, scribbling, notating my notes, scribbling my scribbles, and all of it just to fully understand the comings and goings of this show. I literally cannot think of another movie or show I have spent more time on delving into each of the characters, charting their relationships or detailing out their place in their universe. Never. Which is saying alot, because I'm the guy that thinks Inception had 7 dream layers as opposed to 3. I'm the guy that figured out the false ending of The Prestige. I've deconstructed the internal workings of Timelapse and chatted with the creators. I have spent a ton of time digging on so many of these crazy movies. But this diagram I am about to show you puts all of that work to shame.
I created a poster, quite accidentally. I did it for myself in the hopes of better understanding this show. And as I continued working, it got so big, I've decided to offer it to you guys as an official poster. Here, take a look at what my hands have wrought: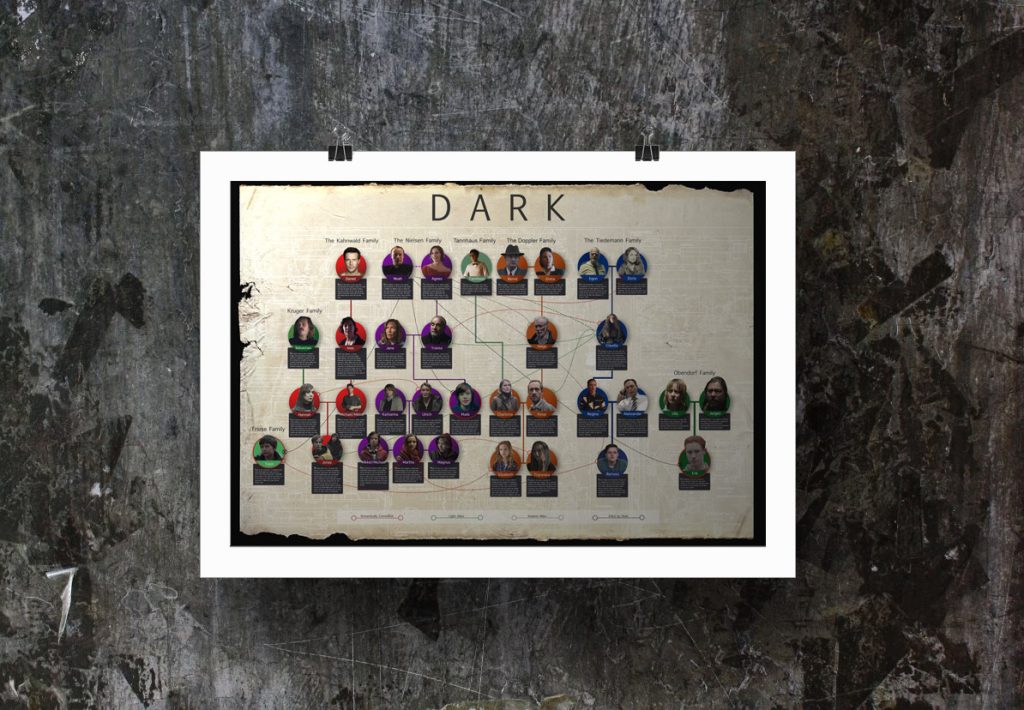 And if you'd like a physical copy of the Dark Family Tree, you can get it HERE. Heck, want it framed? You can do that HERE. Just want a digital version? Or if a digital copy is good enough, you can get that below instead. The really bad problem? It doesn't downsize well. All my detailed notes, and connection lines blur out at normal web sizes. I will drop in a 1/10th the size version for you to see, but it really just doesn't work well.
And if you would just like a digital copy of my Dark Family Tree, please consider a donation below. Sure, I'll send you one for free. But after 60 hours of work, it'd be nice to recoop a little bit of that time. I have detailed out each of the characters, their relationships to one another, and even the link of shadows and the light, and I continue to make it better with each and every comment. I've already updated it 3 separate times with very critical changes. Anyway, thanks in advance! AND AS I MENTIONED ABOVE – THE BIG BIG FILE IS NOW UPDATED. (Is it just me or is that loud? Yeah, kinda loud.)